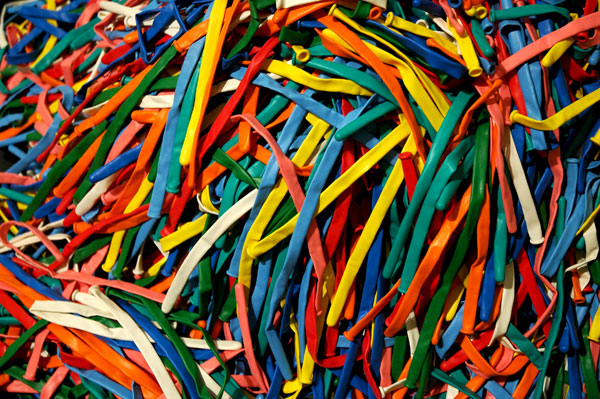 not a puppy in site
Wednesday's schedule for #class began at 2 with a "Feminist Tea Party" hosted by artists Caitlin Rueter and Suzanne Stroebe. I saw some of it at home on the streaming video (while drinking coffee) but was unfortunately not able to make out most of the discussion. I arrived at Winkleman just as they were leaving with the accoutrements (tablecloths and porcelain cups; the finger sandwiches, cookies, and cupcakes presumably having already been shared with the issues).
Man Bartlett was just about to begin his own much-anticipated 24 hour event, "24h #class action", described on the site as "a marathon group intervention involving systematically blowing up hundreds of skinny balloons and popping them, without creating or harming any cute little puppies." Any reference to proceedings inside the big bucks Olympian "art" world of bright shiny stuff, paid santa's workshop helpers, and undisguised commerce - certainly including the current New Museum show - is not a coincidence. More from the artist:
A simple physical action, over time, can radically shift consciousness, specifically when combined with "real" and "virtual" social interactions. It is in this context that "24h #class action" plans to poke a pin into Koonsian psychological dramas.

Beneath its surface this intervention is an exercise in futility and one of joyous absurdity. The balloons will only take their long, phallic shape, without further form, and will eventually be liberated or executed. Is it possible to both celebrate and critique? Does it matter that risks were taken by Koons (and others) to create this ridiculously expensive series? Is ambition alone worth applause? Is the fact that 5 balloon dogs were fabricated a triumph? Is it "relevant?" What I'm grappling with is a complex relationship to the artist's work, and really to all Art and Everything. And duration exposes fascinating avenues in the headspace to drive down.

Or, you know, we're just blowing up balloons that we get to pop at the end, which is fun too.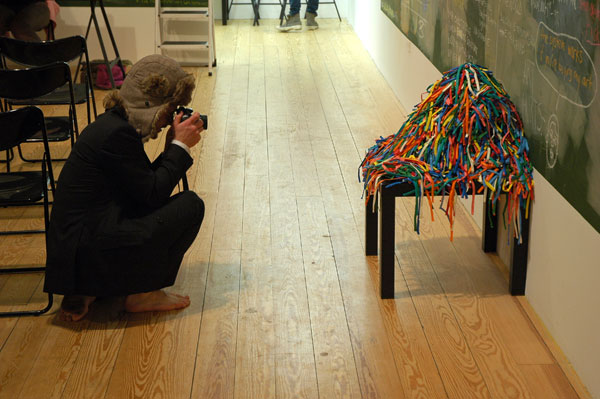 the artist contemplating his canvas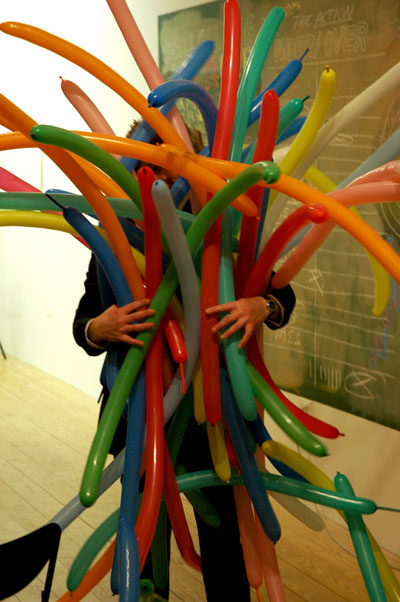 and getting into his metier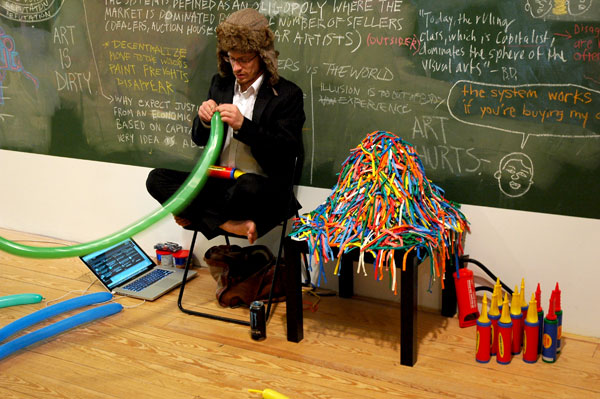 less than 24 hours to go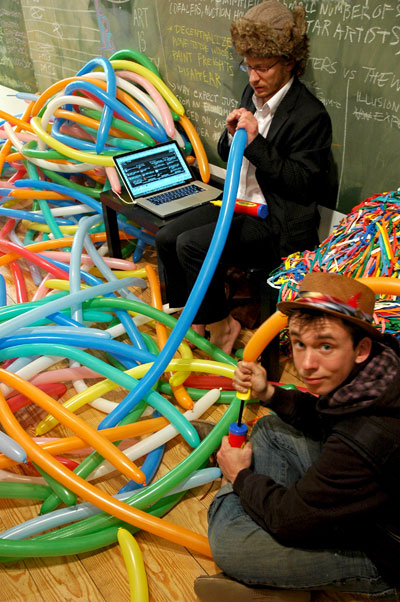 Shalin Scupham joins the "group intervention"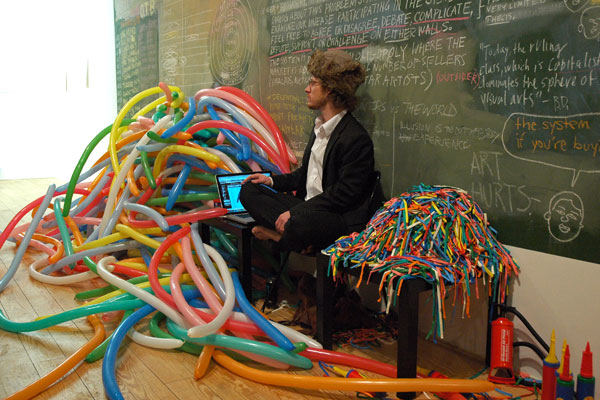 the artist during Magda's presentation
Bartlett and his helpers began blowing up balloons at five, but took a break a little over an hour later when Magda Sawon of Postmasters Gallery arrived to host "Ask the Art Dealer." She had vowed to "truthfully answer any and every question posed to her as long as it does not involve her weight, social security number or other people's money." She was incredible. Barry and I had already thought of her as a community hero, but now she belongs to the world.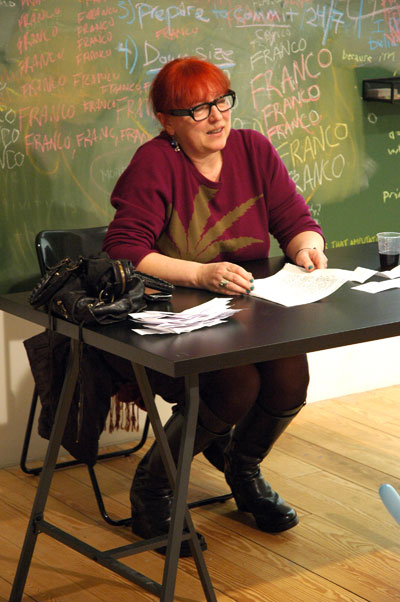 Magda holds the room enthralled
Ed Winkleman, the gallerist who made #class possible, was also in the space yesterday, with the third session of his own intervention (as a gallery owner) in what he had titled, "Shut Up Already...I'll Look at Your Art!". The project, the fruit of an artist's "anonymous proposal", according to Winkleman, (someone tell me whether that anonymity is still being maintained) has him working out a pledge that he would spend a portion of his time during #class in viewing, for no less than 10 seconds each, images submitted via an open call on the internet. The third of seven rules specifies that he and his guests would be "monitored by a volunteer as they view the work to assure full compliance with the rules." On Wednesday his monitor was the artist Bernard Klevickas. Images of work he has seen can be found here.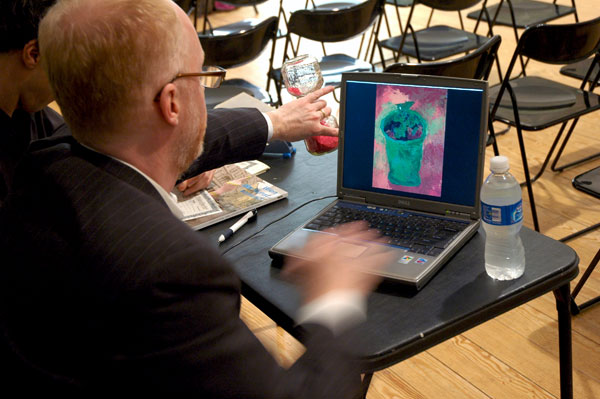 a very open call