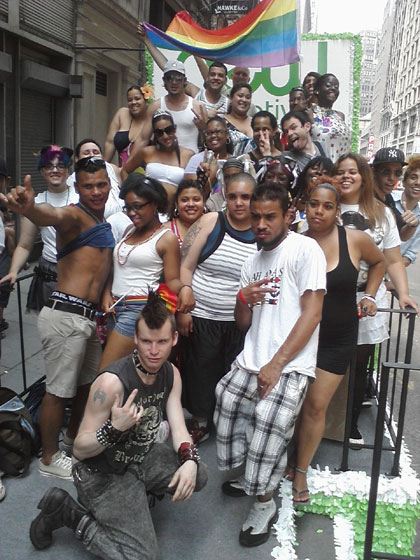 New Alternatives marched in the 2010 NYC Pride Parade last month
A July 10 benefit for New Alternatives for LGBT Homeless Youth will offer both some incredible book bargains and the opportunity to do something for some of the most vulnerable (yet spunkiest) folks in New York. The organization was founded by activist Kate Barnhart, whom I first met some 20 years ago, when she was just about the youngest and most fearless member of ACT UP (and there was serious competition for both roles). She hasn't slowed down since.
These are the details of the benefit:
Huge Book Sale on July 10
At LGBT Community Center on West 13th Street
Will Benefit Homeless LGBT Youth

"Buy a book, save a young life" fundraiser
Offers ten thousand new volumes on sale
For $10 per shopping bag

NEW YORK, NY, June 28, 2010 – A huge sale of more than ten thousand new and used books will take place in the West Village on July 10, with the proceeds going to charity. The event, called "Buy a Book, Save a Young Life," will take place on Saturday, July 10 from Noon-6pm at the LGBT Community Center on 13th Street.

The books on sale encompass every subject and genre, including children's, art, classic and modern literature, as well as collectables and rarities. These books were donated by veteran bookseller Robert Warren, who recently closed his landmark New York bookstore, Skyline Books. Admission is free to this event, and people can fill a shopping bag full of books and pay $10 per bag.

All proceeds of the "Buy a Book, Save a Young Life" sale will benefit New Alternatives, the East Village program based at Middle Collegiate Church. New Alternatives provides desperately needed services to LGBT homeless youth, including hot meals, emergency housing referrals, case management, and life skills training.

There will be a special pre-sale on July 10 for dealers and collectors. For an admission fee of $25 (also going to New Alternatives), shoppers can get a jump on the crowd from 11am-Noon. Admission includes one free bag of books. Additional bags of books will be $25 each.

For hardcore bargain hunters, from 5pm to the 6pm closing, the price plummets to $1 per bag of books.

To match New Alternatives goals of promoting HIV awareness and safer-sex education, each bag of books comes with free condoms, and New Alternatives promises a fun festive atmosphere. In addition to great book bargains the event will include performances from queer and queer-friendly acts such as Circus Amok, Rude Mechanical Orchestra, and The Church Ladies for Choice. Expect music, stilt walking, juggling and a good vibe to abound.
ADDENDUM: See Karen Ramspacher's brief description of the group in her comment on Bloggy
[image from New Alternatives]