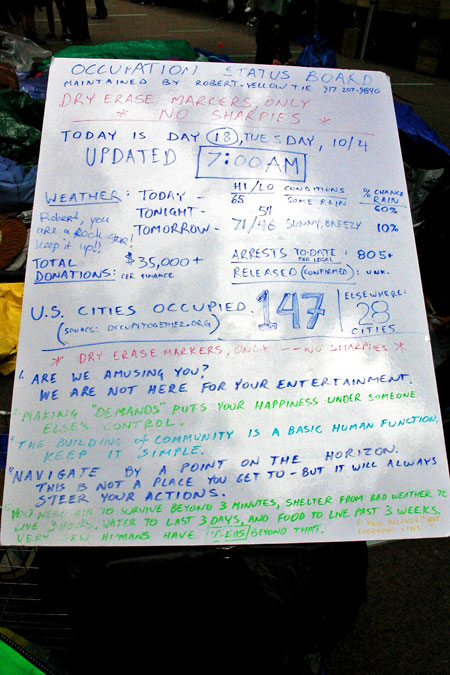 Tuesday, October 4, 2011, inside Liberty Plaza, New York City
ADDENDUM: The list of participants in the march has grown. This is what was being reported by #OccupyWallStreet as of 8:30 this evening:
AFL-CIO (AFSCME)
United NY
Strong Economy for All Coalition
Working Families Party,
TWU Local 100
SEIU 1199
CWA 1109
RWDSU
Communications Workers of America
CWA Local 1180
United Auto Workers
United Federation of Teachers
Professional Staff Congress - CUNY
National Nurses United
Writers Guild East
VOCAL-NY
Community Voices Heard
Alliance for Quality Education
New York Communities for Change
Coalition for the Homeless
Neighborhood Economic Development Advocacy Project (NEDAP)
The Job Party
NYC Coalition for Educational Justice
The Mirabal Sisters Cultural and Community Center
The New Deal for New York Campaign
National People's Action
ALIGN
Human Services Council
Labor-Religion Coalition of New York State
Citizen Action of NY
MoveOn.org
Common Cause NY
New Bottom Line
350.org
Tenants & Neighbors
Democracy for NYC
Resource Generation
Tenants PAC
Teachers Unite
Tomorrow is big.
#OccupyWallStreet is likely to move into another dimension with the "Community/Labor March to Wall St against Corporate Greed and the Big Banks". A number of unions and community groups will be a part of the march of the 99 percent Thursday afternoon. These include the United Federation of Teachers, 32BJ SEIU; 1199 SEIU Workers United; and Transport Workers Union Local 100; PSC-CUNY United NY; the Strong Economy for All Coalition; the Working Families Party; Vocal-NY; New York Communities for Change; Community Voices Heard; Alliance for Quality Education; [list in formation].
It has been announced that this march is "permitted", meaning that the permits which the NYPD requires for any public assembly have actually been obtained, having been sought in deference to the preferences of some of the groups participating.
It was to start at City Hall (250 Broadway), but the assembly point has been changed, presumably in response to the anticipated numbers. Now it will assemble near or just east of Foley Square (map). The marchers will go down Park Row past police headquarters and City Hall to Broadway, where they will turn left and continue five blocks to Liberty Park (until recently called Zuccotti Park).
Any doubts about the importance being vested in this event are likely to be dismissed after even a quick look at the Google results for "Community/Labor March to Wall St against Corporate Greed and the Big Banks".