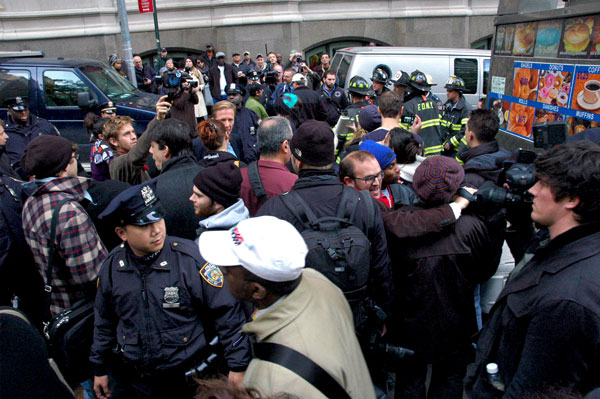 occupiers, media people, and passersby, together with one unidentified blond-haired, spiffy guy in a pin-stripe suit (perhaps, although improbably, representing the NYPD), quickly surrounded police and firemen on Friday afternoon; the combined city units were shutting down a food vendor on what appeared to be specious cause; the vendor is known to the community and has been sympathetic to its needs
On Friday afternoon I visited the occupiers in Liberty Square. I stayed for a few hours, talking to friends and strangers, and I came back with the images in this annotated photo album.
Incidentally, on Friday night Occupy Wall Street tweeted: "The man who changed Tunisia's history was a street vendor. Police seized his goods". The tweet included this link for the story of the origin of the movement which is now being called "Occupy".
LINKS: