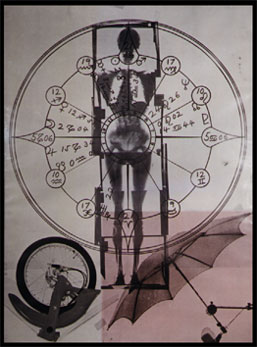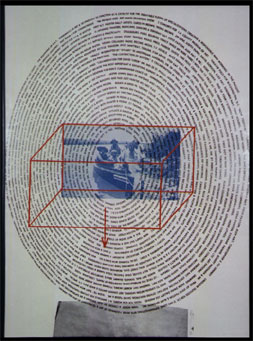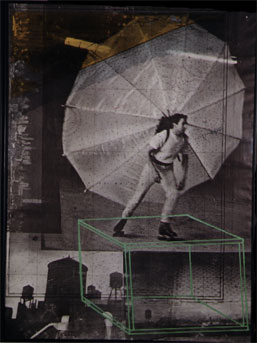 ROBERT RAUSCHENBERG, Autobiography, 1968
The three panels of this large offset lithograph by Robert Rauschenberg from 1968 titled Autobiography are displayed vertically and exceed 16 feet in height. They were printed with the type of press used to make commercial billboards. The three panels are layered with seemingly disparate images that, on closer examination, are probably thematically grouped. The top panel features a composite X-ray of Rauschenberg's own body superimposed with the artist's astrological chart, suggesting both the present and the future. The center panel deals with the artist's past; at its center is a photosilkscreen of the artist as a two-year-old boy with his parents boating on a bayou near his home in Port Arthur, Texas. Surrounding this photosilkscreen is a labyrinthine oval of handwritten text narrating events in the artist's life. The lower panel seems to address artistic creativity and is dominated by an enlarged photograph of Rauschenberg during his 1963 performance "Pelican," in which he wears rollerskates and a parachute on a wooden armature harnessed to his back. Rauschenberg was one of several performers and he also choreographed this performance. This particular image suggests both movement and flight, which are themes carried through in Rauschenberg's art and life.

Autobiography's visual overlay of seemingly discrete and unrelated appropriated images is quintessential Rauschenberg, but the emphasis on personal or autobiographical subject matter is not. The vision underlying Rauschenberg's aesthetic has often been interpreted to mean that meaning itself is created through accidental, improvised, intuited, and even illogical juxtapositions and associations. In that sense, what Rauschenberg offers us in Autobiography are images he had at hand but they are also images of personal significance to him. Rauschenberg once stated: "I don't want my personality to come out through the piece . . . I want my [work] to be [a] reflection of life . . . your self-visualization is a reflection of your surroundings."


[image and text from Philadelphia Art Alliance]