We had every intention of making it three days in a row, but we stayed inside out of the storm today. Our unusual homebody status was established mostly through reports that the streets linking the artists of the weekend's Long Island City "Open Studios" event were unplowed, but we had some catching-up to do around our imaginary hearth, so we may only have been looking for a convenient excuse.
On Friday we trekked to Brooklyn for a performance at BAM of John Adams's "The Death of Klinghoffer". No machine guns or bombs, thank goodness [the metal detectors we're all now taking for granted surely must have saved the evening - may the devil not take this new America!], but there was still a lot of snow and wind.
Something was missing from this performance, but I have no idea what it was. I've now seen "Klinghoffer" three times. We have the beautiful CD and it never collects any dust on the shelf. For the first time, I was not moved upon hearing the music and Alice Goodman's sensitive libretto. Much of the time the evening seemed to crawl. Maybe the busy Mark Morris choreography I found so annoying in its New York premier over ten years ago, missing last night, made all the difference, but the Ridge Theater Company's minimal staging of the current production was certainly very beautiful.
For a real review, see Felix Salmon.
We ducked across the street in the swirl of a real nor'easter, into the warmth of Thomas Beisl, a very comfortable and very real Viennese restaurant/conditorei (ok, bistro). I ordered the esoteric Sulze appetizer , but the beautiful Hungarian waitress didn't bat an eye. We could have been at Freud's own Stammtisch. I sat facing a window which framed a view of the magnificent storm. The driving snow, dramatically lighted by street lamps, only partially obscured Vic Muniz's fanciful gingerbread house image painted on the canvas still covering the scaffolding on the facade of the Opera House. Wow.
On Saturday we bundled-up again and tramped around west Chelsea mostly visiting those galleries which had shows we knew were about to close. The storm continued all day, and eventually into the night. There were a few other souls about, but we shocked the galleristas in several spaces when we walked through their doors, and the only place we found the kind of crowd we'd normally expect on a weekend was LFL Gallery, where the collaborative PFFR was about to break camp. Lots of fun for the entire family there. We bought some more souvenirs, a video and a CD, having grabbed a small drawing on an earlier raid.
For more on our Saturday afternoon adventures, see Bloggy.
That evening, after a brief stop home for a cappucino and half of a cinnamon pastry each, we headed back into the wind and snow on a return to "Breukelyn," this time to the granite-block streets under the Manhattan Bridge, for a benefit for the D.U.M.B.O. Arts Center Winter Auction.
We were delighted to be able to bring home two great pieces, a small painting by Johathan Podwil and a large drawing by Fritz Chesnut.
We had been afraid that the place might be mostly empty, because of the storm, but were [almost selflessly] delighted to see we had the decent bidding competition of a very good size crowd. Obviously we weren't the only fanatics not easily discouraged by the elements. Less than is sometimes the case at these events, there was no heavy anxiety and no trampling of competing bidders, just good food and wine, and lots of laughter and smiles. Folks at the party, guests, artists and patrons, were all in a festive mood. Some of that must have been the snow, the rest the great vibe of this very interesting, and "developing" neighborhood of artists and . . . others.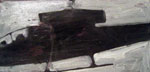 Jonathan Podwil, Huey, 2000
oil on paper, 5 1/8" x 10"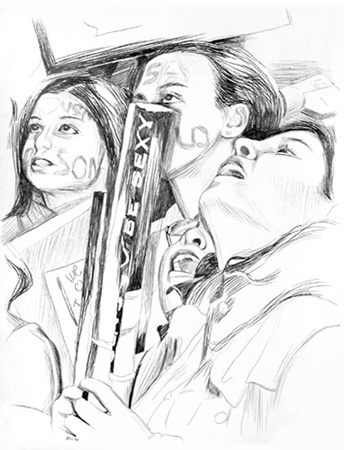 Fritz Chesnut, Total Request Live/J. Lo #1, 2001
graphite on paper, 24" x 18"


UPDATE December 11: For a full c.v., and more still and video images of Jonathan Podwil, see his own site.