Maybe Chinatown isn't going to be the next Soho, Chelsea, or Williamsburg, but it is going to be the next Chinatown. Maybe it can be sui generis. It sure would be nice to see the big guys stay elsewhere. There's a place for a Chelsea, especially if it stays sprinkled with alternative spaces, and Williamsburg is just fine as it is.
Anyway, whatever happens elsewhere, watch for a number of new gallery spaces to open in one of the last "unimproved" neighborhoods in the southern half of Manhattan. It's going to happen. Economics will drive it, but its integrity, energy and good subway accessibility will all be part of the attraction of the Canal Street area.
There seems to be room for more. Especially in New York, people want art. Art just seems to make us happy. Sometimes it makes gallery people happy too. It's best when that happens.
I sure hope that galleries in Chinatown will be good for the people already there. Judging from the gallery presence already dotting southeastern Manhattan it seems at least likely to be good for everyone else.
I wrote about Michele Maccarone's space, Maccarone, Inc., last October, raving about the Phil Collins show, and we returned recently to see Chivas Clem's installation [officially closed one week earlier, I think] of re-contexualized media images, once again spread through the three floors of a small, barely-spruced-up old commercial building on Canal Street near the Manhattan Bridge. The intrepid explorer Holland Cotter reviewed [scroll down] the show early last month.
Great shows, but still no website and this time not even a press release or card for a visitor, at least by the time we got there. Nobody said art was easy, even for its fans.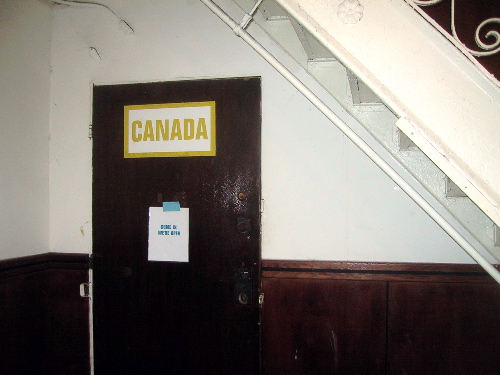 down the hall, turn left, first door on the right, "come in, we're open"
The improbably-named Canada [no, the principals aren't even Canadian] tries a little harder. Here on Chrystie Street just north of Canal, once you track down the space and navigate the hallway, you'll find some very sweet people and the usual artist informationals. Two weeks ago we visited Michael Mahalchick's wonderful soft sculptures and the videos of sound art by other artists Mahalchick had invited to further enrich the funky gallery space. They have a real website.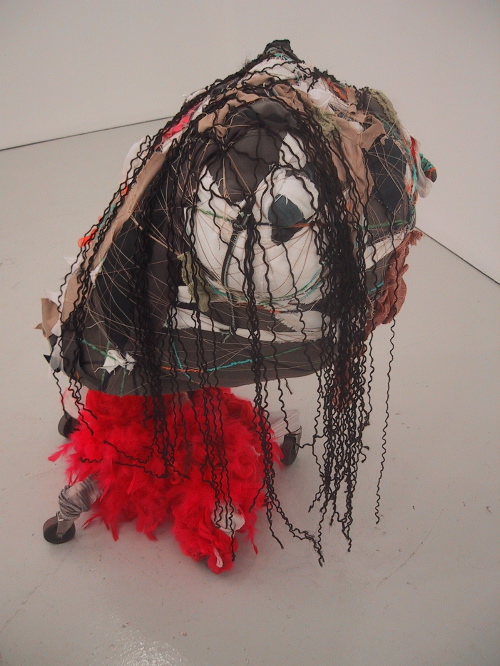 Michael Mahalchick Billie
Not to take away anything form the shows we've seen in the "formal" exhibition spaces, but the best thing about Canada may be the promise (and reward) of the goodies hanging or lying about in their back room. While we were there this time we made nusiances of ourselves asking to see and hear more about everything we could get our eyes on, work of artists who had already shown in the gallery or who would or might be seen there in the future.
Oddly, none of the work I'm going to mention here really comes across in photo reproduction, because of textures materials or dimension, but we were very excited about every collage we saw by Brian Belott, and Sarah Braman looks better every time I see the work, especially if you can look at the pieces inside and out. Even the fact that the one piece we saw by Carrie Moyer looked better than what we have seen in other venues may be a testament to the gallery. The Sunday we last visited we spoke to Constance Feydy.
These are very savvy gallerists, and I hope they stay on the edge even if their intelligence and judgment means they are not likely to remain only on the periphery.