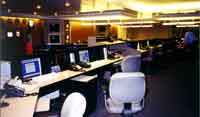 Giuliani's Emergency Operations Center on the 23rd floor of 7 WTC
Regular readers know why I have such a keen interest in the former 7 World Trade Center [friends who fled the building on September 11, a years-long office there myself and disgust with the human impact of many decisions made by its tone-deaf owner, Larry Silverstein, and his friend the American media-hero Rudolph Giuliani], and some know that I have tried in the past to bring attention to the reason for the monstrous building's astounding collapse that afternoon. Well, that reason may finally have attained real legitimacy, since Newsday reports today:
Mayor Michael Bloomberg's press secretary is accusing Rudolph Giuliani's emergency management chief of making dubious decisions that led to the fiery destruction of a Ground Zero skyscraper.

Press secretary Ed Skyler leveled the charge at Jerry Hauer, the former director of the Office of Emergency Management, after The New York Times published an op-ed piece by Hauer yesterday criticizing Bloomberg for weakening OEM.

"It's funny he didn't mention his decision to put OEM's headquarters at 7 World Trade Center, complete with enough diesel fuel to burn down the entire building on Sept. 11," Skyler said.

The building collapsed hours after the Twin Towers fell; ignited diesel burned long afterward, contributing to the pall of black smoke that hung over lower Manhattan.

. . . .

Skyler's comments echo private remarks from Bloomberg administration officials who have criticized Giuliani-era decisions, including the decision to site OEM's Brooklyn headquarters in a flood zone.
Hauer's criticisms of the Bloomberg administration's handling of OEM doesn't seem to address these damning assertions, suggesting they are not even arguable.
I suppose it would be even more interesting if these guys were not all working in Republican adminsitrations.
[I had first seen this image, or one like it, from NYC OEM, two and a half years ago - it was hastily removed from the site soon after September 11 by the Giuliani administrartion, but it has returned at some point in the interim, although I believe it may be much smaller this time]