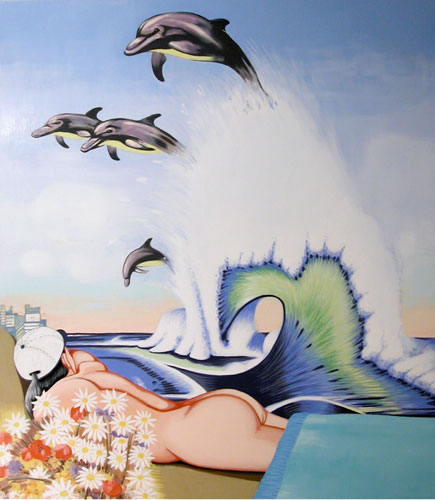 David Humphrey Wave Watcher (2003) acrylic on canvas 96 x 84 inches
I used to think he was a brilliant, mysteriously compelling eccentric. Still brilliant and mysteriously compelling, David Humphrey is looking less eccentric today. But it's not that Humphrey is getting more conventional. Rather, it's that in the contemporary art world convention is just not convention any more.
While originally known as a painter, Humphrey has lately also been working with sculpture, and it shows. In the exhibition which opened at Brent Sikkema April 3 it shows in the intelligence of the sculpture - a carnival of enigmatic figures in weird combinations of clay, plastic, marble, bronze, found porcelain figures and fabric - and it shows in the paintings.
Ed Winkleman said that he thought the wonderful sculptures have really impacted the painting. If the sculpture has informed the painting, I think it actually gives a new form to it. Humphrey's imagery was often more ghostly and semi-abstracted, and today there are some hard edges. At least one central figure or group in each painting has a real, if more or less cartoon-like, shape. While these paintings may be shy one dimension, they have a very strong sculptural presence.
It's a great show and it should attract serious critical attention. The size of the opening crowd would have been respectable in a large group show of young artists who had brought all of their friends. Humphrey's admiring peers were there that night, but I'm sure they won't be the only ones talking about these works.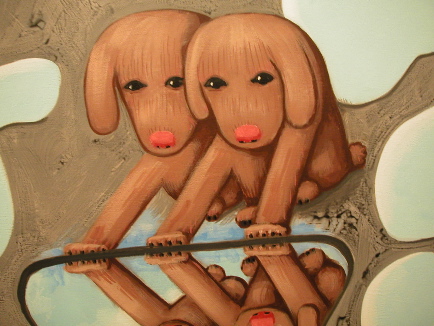 David Humphrey Twin Pups detail (2003) acrylic on canvas 44 x 54 inches
[upper image from Brent Sikkema]