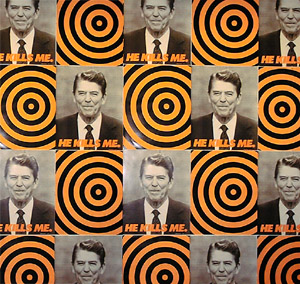 Donald Moffett He Kills Me (installation detail), 1987
He's dead, but as the encomiums pile up he's not going to look dead enough.
Reagan virtually spat on people with AIDS throughout his presidency. The epidemic began under his watch, and he ensured that it would ultimately kill millions. For that responsibility alone, he didn't deserve the relief alzheimers must have brought to his memory.
Ah, wait, Barry just turned on Sylvester's "You Make Me Feel Mighty Real." The magical musical legend Sylvester died of AIDS in 1988, so that ecstatic, triumphant shout of delight seems very real around here today. We're dancing on his grave tonight. Maybe me especially. I'm still talking, and now that monster/fool is not. I'm one of the lucky ones. I've been HIV+ for decades, and I'm not leaving yet.
Oh yes, and my memory's just fine.
[image from Richard F. Brush Gallery, St. Lawrence University]