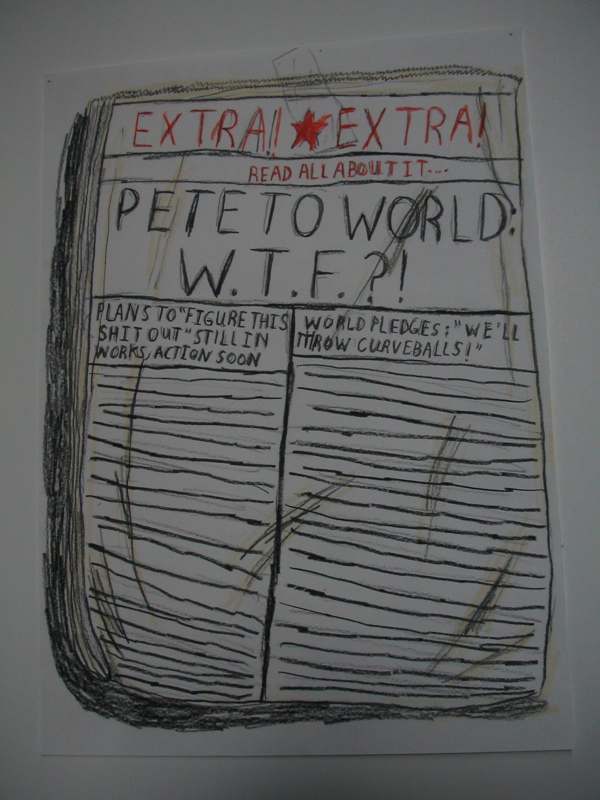 Peter Corrie untitled (2004) 11" x 14"
Barry and I actually stopped by twice on Saturday at the Dumbo space of the TAG Projects show, "Death to the fascist insect that preys on the life of the people." We left in triumph with the piece shown above, by the young artist and curator of the show, Peter Corrie, and we still expect to add one or more small works by other artists to our cart once we can pin down the details.
There was a great deal to like about each of the dozen or so artists who had contributed work. While certainly and unapologetically politically-driven, this is art which can stand very strongly on its own both at this moment and in the eden for which these people are working.
My most-savored (or at this moment most-remembered) images are, in no particular order, the wall installations of Noah Lyon and Peter Corrie (who can't stay on paper alone). Corrie's provocative sculpture, "Dear W," is a small found suitcase filled with a simulated bomb assembled largely from art supplies. The infernal machine would be in our apartment at this moment except for the problem of space associated with most sculptural and installation art.
John Jodzio's imagination could make any neighborhood a legend, and his two large exciting works on paper (sharpie pen and watercolor) do a very good turn for Jersey City.
Leah Meyerhoff's (triptych-y?)video, "Packaged Goods," seems to offer one proposal for dealing with the fascist world of the show's title, and it's as painful as it is fascinating to witness. Great installation.
Alex Barry's 19 drawings, each assigned a title beginning with "I Wish I was . . . ," hold back as much as they deliver. I'm trying to say they're all keepers.
Drew Liverman presented a beguiling collage assembled with cut-outs from printed vinyl inflatable toys. As far as I could determine, the piece offered less menace or malice than any other in the show. So, is that something like a reversal of the kind of impulse which will sometimes contrive a deliberate mistake in an otherwise perfect work?
Jeff Swartz creates small, pretty, exquisitely-crafted melancholy images of military hardware.
Tim Kent has refashioned a child's doll (ok, it's actually G.I. Joe), and its labelling, and returned it to its bubble-wrap packaging. The figure is now costumed as the standing, black-hooded figure in Abu Ghraib Prison which will be etched in our brains forever.
Spy pins a home-made stuffed white rabbit to a column and in its "hand" are three useless playing cards. Just below the figure is another, separate work, a white marker image on black paper of the devil holding a rabbit upside down. The title of the piece with the stuffed rabbit? "He's Got Jack."
We're very sorry once again that we only managed to get to the gallery space on the last day of a one-week show run. We'll do better next time, and I certainly hope, and expect, there will be lots of nexts. We want to watch this good stuff happening.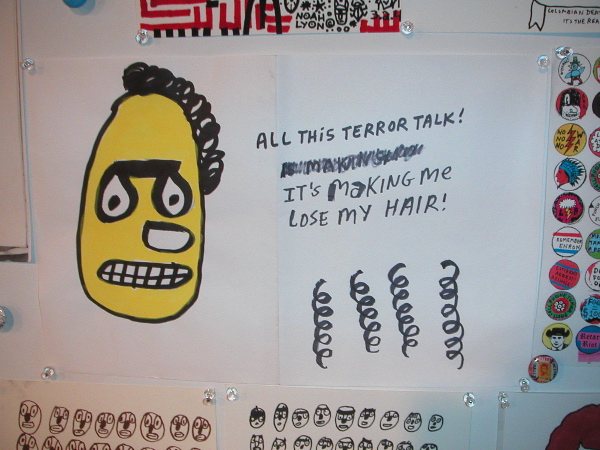 Noah Lyon drawings, installation detail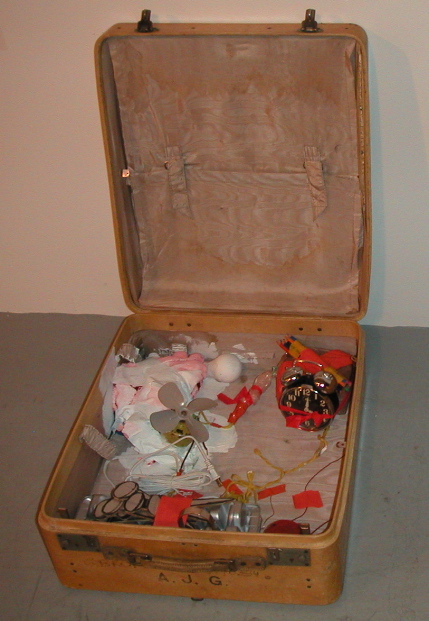 Peter Corrie Dear W (2004) mixed media 3' x 2' x 4'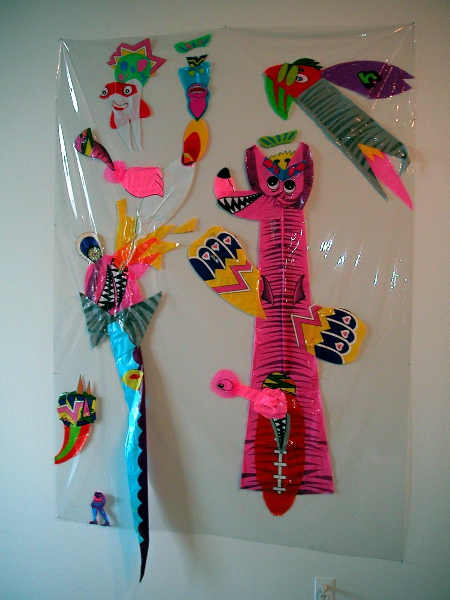 Drew Liverman untitled (2004) 6' x 4' printed vinyl & plastic sheeting

Spy, installation view, with He's Got Jack (2004) 2' x 1' fabric, stuffing and playing cards; and untitled (2003-2004) 14" x 11" marker on paper
One more note about both the people who are TAG Projects and the artists shown in this exhibition: Many if not most of them are as dedicated to and creative in music as they are in their visual work.
And if anyone's still wondering about the inspiration for the title of the show, copied in the first paragraph above, it's a quote from the Symbionese Liberation Army. For more of an immersion in extreme activism, and only slightly less extreme sex, check out Bruce LaBruce's new film, "Raspberry Reich," a brilliant film tool for seducing homos on behalf of the revolution.