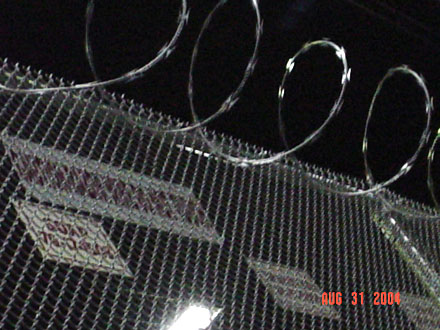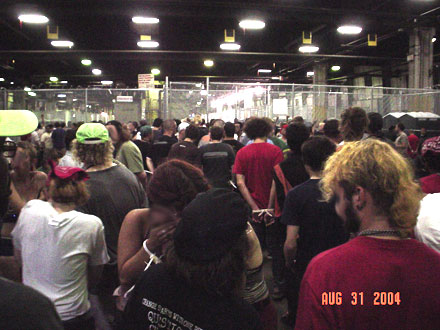 Welcome citizens! (wire and flesh, inside the holding pen on Pier 57)
I'm sure we haven't heard the end of the story of Guantanamo-on-the-Hudson, but in the meantime here's a small footnote to the account of what thousands experienced there this week.
The September newsletter from our wonderful New York State General Assembly representative, Dick Gottfried, arrived in our mailbox yesterday. One of the smaller stories is headlined, "What Future for Pier 57?" Until this week "Pier 57" was the name of the large Hudson River dock the NYPD had recently fitted-out to serve as a detention center for its political prisoners.
Gottfried's Community Update must certainly have gone to the press before the mass arrests of this week and probably even before his staff or the general public knew the details of the police department's plans for political protest, yet the short text which appears under the headline manages to send shivers down my spine (I'll explain below):
Pier 57, at West 15th Street, which was most recently a bus depot, is in the process of getting redeveloped as part of the Hudson River Park
But the NYPD has now tasted blood, and it seems to have other plans for the waterfront real estate, according to an article in the
New
York
Post
excerpted in the
New
York
Press
and appearing here via
Bloggy
:
The most disturbing bit of information concerning the West Side holding pen, however, was buried in the Post's account. Just a brief mention:

"Cops fear some protesters might hang around after the convention to disrupt other events, like the U.S. Open, so the pen will remain open indefinitely."

The U.S. Open? Other events? Like what, the 3rd Ave. Street Fair? The grand opening celebration at a new Payless Shoe Source in Queens?

In other words, a year-round internment camp is now part of the ongoing West Side development project. Does the Olympic Committee know about this?
The shivers follow my thoughts, stimulated by reading historical accounts and seeing the physical evidence of countless memorial plaques, of improvised holding pens and interrogation rooms created by long-gone 20th-century authoritarian regimes.
If the old Marine & Aviation Pier 57 ever does become part of a park, I want to see an historical marker displayed prominently on the site. I only hope it won't have to describe greater horrors than those already visited on our city this week.
[images from indymedia, by anonymous]