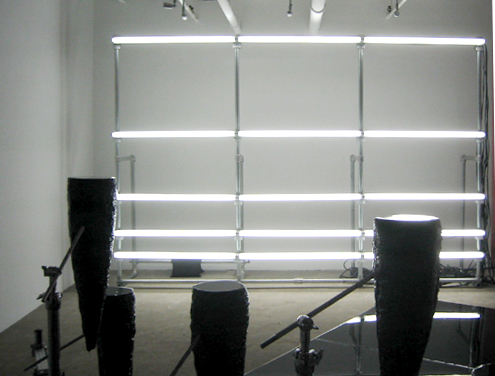 Banks Violette, detail installation view of anthem (to future suicide), untitled (disappear) and hate them (single stage), moving from the rear to the front in this image
Ooooo. Another black and white show. But they never seem to be boring. For those who live in a world of color, what could be more abstract (read, "challenging") than black and white? TEAM [I love the gallery's motto inside their site description: "Team Gallery, a commerical art gallery dealing in work by emerging artists and the fringe of contemporary culture"] is currently showing, "the ice age," a show which includes work by Muntean/Rosenblum, Guillaume Pinard and Banks Violette.
All black and white, but not so easily read all over. I like that. The gallery's largest room is occupied by three large, severe, abstract sculptures, and one exquisite five-panel piece, "sunset (Ithaca)," comprising graphite drawings on paper. All of this is by Violette. While the work of the other artists shown in rooms and on walls which surround that space may offer a touch more of an anchor in what many call "reality," in the end each of these also ends up spinning its elegant concept into more obscure realms.
There are two beautiful video-based works, by the collaborative Muntean/Rosenblum and by Pinard, occupying the two rooms in the rear. "Never Facts that Tell," the Viennese collaborative's digital projection of a great world emptied and reduced to an enormous landfill would be achingly beautiful even without the music which accompanies its hooded figures, excerpts from Vivaldi's 1726 opera, "Il Farnace."
The imagery in Pinaud's projection, "Monk," essentially a static Flash animation, is also fortunate in its soundtrack, this time almost fully abstracted.
Pinaud's drawings take over every other wall in the gallery. Although they might be described as cartoons, they remind us that the genre didn't begin, and won't end, with Disney or Merrie Melodies. These are some very heavy images; they don't try for cute and cuddly.
[image from TEAM Gallery]