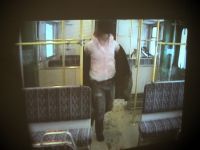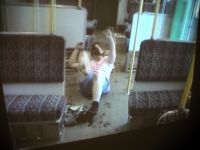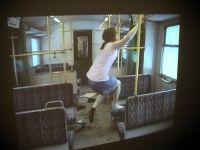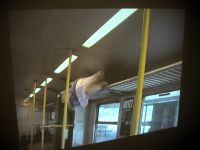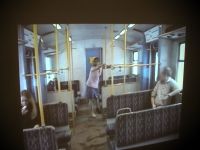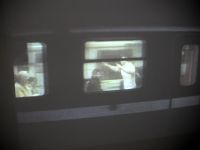 Klara Leiden Paralyzed 2003 video, 3 minutes, stills taken from installation
This is what keeps some of us going. The wonderful energy of a new gallery located where none have gone before, and the first exposure to an exciting new artist.
I left Reena Spaulings Fine Art this afternoon with a grin from here to there, and a bounce in a pair of feet which had been complaining about mistreatment until just before Barry and I entered the rough storefront space on the east end of Grand Street.
The centerpiece of the gallery installation was a site-specific installation which seems to define a sub-genre. Klara Liden builds imaginative natural habitats in the midst of hard urban realities, and here on the Lower East Side she has collected corrugated cardboard from both the immediate neighborhood and the basement of this old building in order to assemble a treehouse-like room on stilts within which she has mounted photographs documenting her scavenging for its construction.
Two videos make up the remainder of the exhibition, and I have uploaded stills from one of them above. The young Swedish artist is shown madly and athletically dancing through a Stockholm subway car at night, shocking a number of other passengers, all of whom it seems would prefer to be able to ignore her. The soundtrack is by the Legendary Stardust Cowboy.
We are told that Liden has studied formally as an architect. We can see that she is a subversive architect. She is described in the press release as "a genius," and I wouldn't argue with that. "Before this show she invented a free postal system in Stockholm, made books with 'appropriated' outdoor advertising, and built an underground house on the banks of the River Spree." Each of these enterprises is beautifully recorded in simple books available in the gallery.
The show continues until January 31. Unfortunately there is no web site yet, but there is always ArtCal. Go talk to the nice people we found on Grand Street today.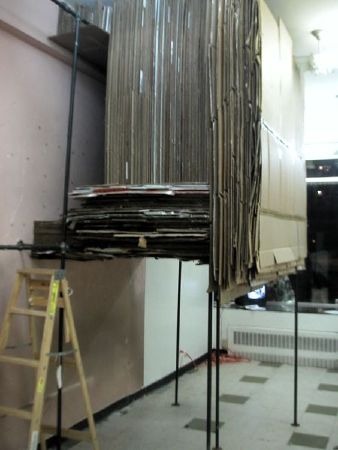 Klara Liden Benign 2004 cardboard, wood, steel, photographs, installation view of the structure, with ladder entrance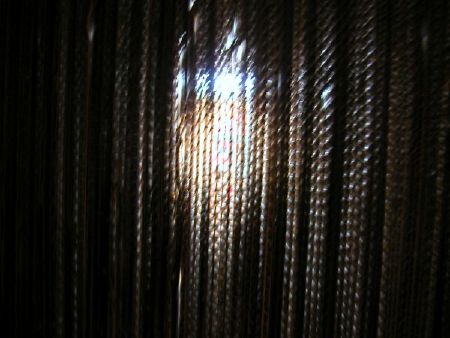 Klara Liden Benign 2004 cardboard, wood, steel, photographs, installation view from within the structure, through the corrugations