actually, this was the only gate we found whose curtain was wrapped about its architrave
I just didn't get it. Barry and I went to see Christo and Jeanne-Claude's project for Central Park, The Gates, this afternoon, well, first because it was there and also because we expected there would be a great deal of excitement on the first day of its display. We also thought we'd run into a lot of friends.
It was there, and apparently it was opened this morning in the minutes around 8:30 as scheduled. But I think I was surprised that I didn't find it at least a little exciting, rather only very mildly diverting. Nor did it seem to inspire the kind of holiday cheer I had expected within the huge crowds which had turned out to see it, crowds found walking through and about [thousands?] of saffron-colored "gates" which lined almost every pedestrian path in the park (the Rambles and other "wild" areas were left alone). And there were no friends in sight, as if they all knew better.
The Reichstag thing I liked a lot, even if I didn't get to see it.
Anyway, I guess $20 million just doesn't buy what it used to.
Perhaps striking the right note for the day, we overheard one young woman, as we passed her and her friend on our way up to Belvedere castle, talking about the miles of saffron nylon on display: "Yeah, I'd make a skirt out of the stuff."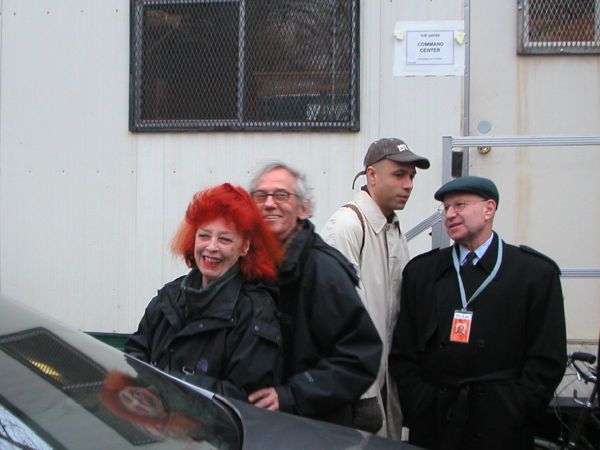 at the "Command Center," while our small crowd gathered on the other side of the vehicle, and as their intense conversation with a bunch of male authority figures in suits wound down, the pair kept pointing to the car; did they want to get rid of it or keep it?
Halfway through our trek today we were passing the Loeb Boat House and the parking lot across the path from its door when I spotted a very large limousine being escorted into the lot. I'm a car fanatic, so identifying a $350,000 long-wheelbase Maybach 62 in a blessedly-car-free (temporarily) Central Park was no problem. We stood around until we could spot the back-seat occupants and, not surprisingly, they turned out to be Christo and Jeanne-Claude. I have to assume that their use of the car was a condition of a patron's generosity to the project.
Oh yes, a final touch of another local color: Barry spotted a Duane Reade bag inside on the floor in the rear.