Ann Craven Pink twig III [detail]
Klemens Gasser & Tanja Grunert have installed a very impressive summer garden show in their very urban quarters on West 19th Street. I'm leading this short post with a detail image of one of the works in the installation rather than the picture of the entire piece with its neighbors because, I think, it works so much better on the scale of this small screen. Much of the surface of Ann Craven's luminous oils have the soft focus of pastels and their extravagant beauty can barely be suggested in reproduction, but this small detail of a branch packs a lot of punch even in a few square inches.
I love her work, as much for its seductive beauty as for its totally uncynical goof on the popular excesses of cuteness and its reproduction.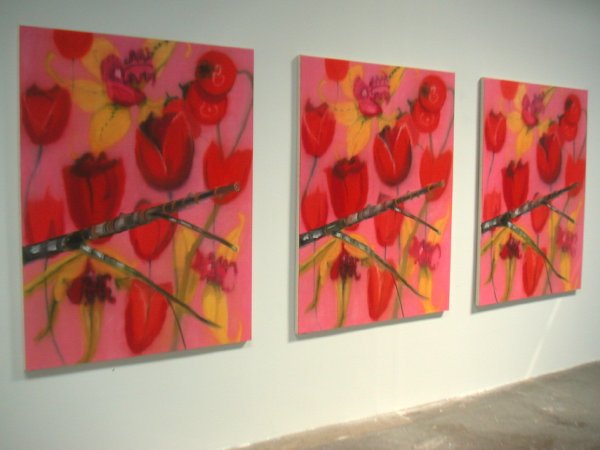 Ann Craven [installation view of Pink twig I, Pink twig II and Pink twig III, each 2005, oil on canvas, 60" x 47"]
The other artists in the show are Ena Swansea, Petra Singh, Will Ryman, Elizabeth Neel, Bart Romberg, Laura Stein, Jeannie Weissglass, Benjamin Cottam, Debora Warner and Joyce Kim. They make an odd assembly, especially for a show entitled "Flower Power," but these aren't your mother's daisies.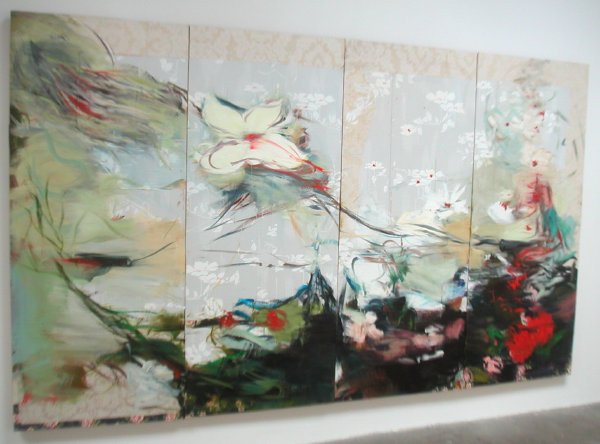 Jeannie Weissglass The Garden 2005 wallpaper, ink pencil and oil paint on wood panels 84" x 144" [installation view]