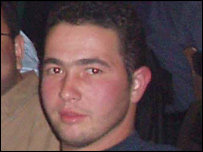 Jean Charles de Menezes
The gang of men who accosted and chased a terrified young electrician into the tube where they shot five bullets into his head after he tripped and fell onto the floor of a car filled with people were plainclothes policemen.
Jean Charles de Menezes entered Britain with student visa; he may or may not have still been a legal resident three days ago, but on the other hand, especially by post-9/11 standards, it's clear he was not perfectly white.
I don't want to hear or read anything more about how the victim was responsible* for his own death - and that we should all expect the same treatment ourselves to save us from terrorists.
For more, see the post of a friend/acquaintance:
His English was OK, but he wasn't fluent. He was pursued by up to 20 normally dressed men who screamed at him in a language that was not his own. Jean comes from Brasil, a country where violent crime is a lot more 'in your face' than it is over here. A group of plainclothes men screaming at you, chasing you, you fucking run. Brasilian police frequently shoot the public indiscriminantly, there was an incident earlier this week - 10 killed. Maybe Jean had thoughts about this when he ran, I don't know. Watch "Bus 174".

*
including the only two letters read on the BBC News Hour this morning
[image from finn]