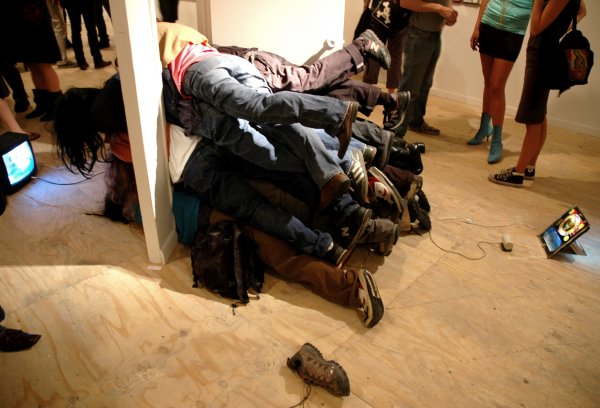 Jade Townsend Sound, Survival in "Cause and Effect" 2006 mixed media [view of installation]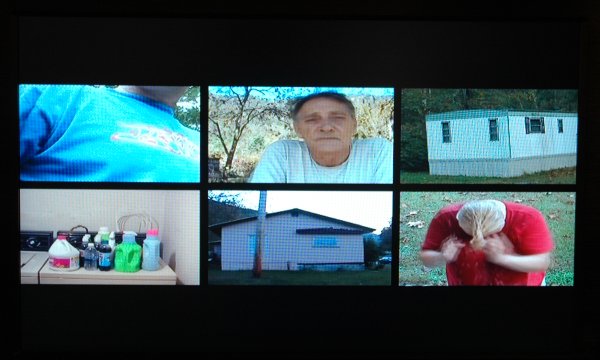 Susan Lipper Hollow 2006 video composite [still from installation]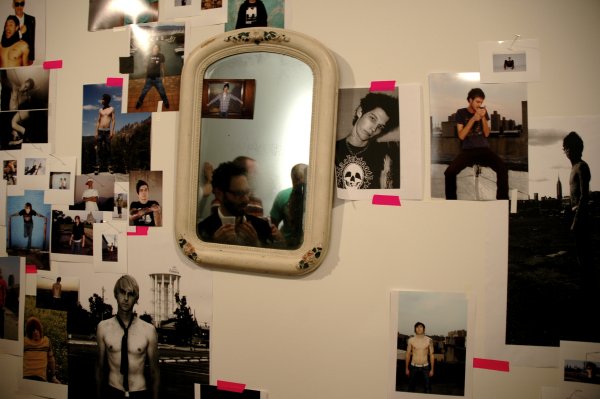 Jeffrey kilmer Skinny as a Skyscraper 2006 mixed media [detail of installation]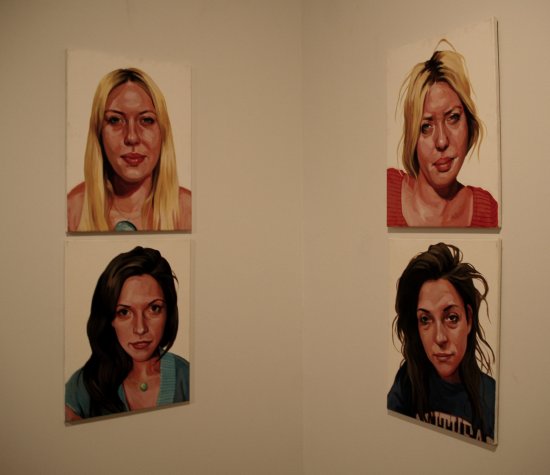 Sarah Lasley Evening and Morning 2005 oil on canvas [installation view of two painting pairs]
Yes, there really is art life on today's [greatly-reduced] Lower East Side, as more and more of New York's most interesting galleries and at least one museum pop up or wander into colorful precincts south of Houston and east of Bowery. But the space at 131 Chrystie Street where the equally colorful show, "Leave New York", is currently installed is not quite of usual order. It's a bold exhibition in a temporarily-vacant store arranged by a group of enterprising artists who decided not to wait for the gallerist to show up.
One of the artist/curator/workers, Jason Cole Mager, wrote this statement to set the tone for the enterprise:
Leave New York

Simply meant to elicit the response, "why?"

We as artists hope to answer as best we can, through our individual representations, the role our local landscape and art politics play in our daily lives.

We do not suggest that anyone stay or leave simply because an outside source dictates that one must do so to succeed.

We only hope to encourage others to remind themselves why they have or have not chosen to be here, and if it is necessary to stay.

Disillusioned by the idea that hype and hip have replaced new and progressive, we rekindle our interests in beauty and the lasting.

Dismayed by a society that walks down a street without looking up, we remind you to do so before another building is replaced.

The city is our love/hate affair.
In addition to work by the four artists included above there is good stuff* by Brody Baker, Christopher Baker, Charlie Foos, Steve Green, Harif Guzman, Jeremy Liebman, Jason COle Mager, Melissa Martin, Jon Parker, Anthony J. Pontius, William Powhida, Ted Riederer, Ryan Schneider, Jim Wright and Michael Yinger.
The show continues until May 15, but I hope some fairy godparent will keep the space from turning back into a pumpkin patch.
*
the camera was very unhappy with much of the lighting during the opening reception, so once again I should state that what does not show up here was determined at least in part by factors not related to critical choice