I wrote a little while back that I would show some of the damage the school had done to work created by Brooklyn College Masters degree students. While this small post can't show the full extent of the physical and psychological assault, it may help to show what New York really thinks about art where it's not attached to big money or some kind of celebrity.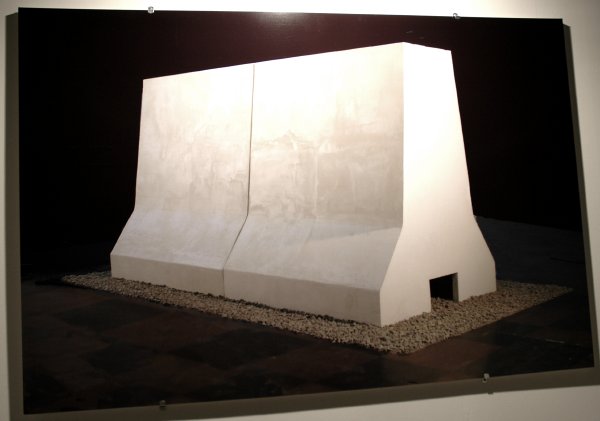 Susan C. Dessel Texas Barrier 2006 cement, styrofoam, cheesecloth, rocks (barrier structure: 5'6" H x 10' W x 4'D, rocks 8' D around structure) [installation view of photograph in re-assembled show documenting the original site-specific installation; the photograph itself is by Robert Puglisi]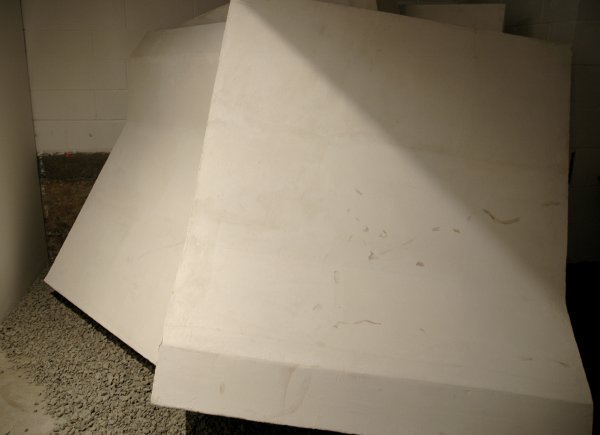 Susan C. Dessel Texas Barrier Post Mortem 2006 (elements of Texas Barrier) [large detail of installation in re-assembled show]
Even in photo reproduction, for me Dessel's original installation stood as a brutal monument to exclusion or "security"; in its damaged form, its shattered pieces reconfigured and squeezed into an alcove in something less than ideal lighting, the work sadly suggested something more like a wounded, defeated animal. I don't know how to sort out an irony through which an evil process can transfom a scary, inanimate object into a creature less the object of scorn than of pity, but I want to watch where Dessel goes from here.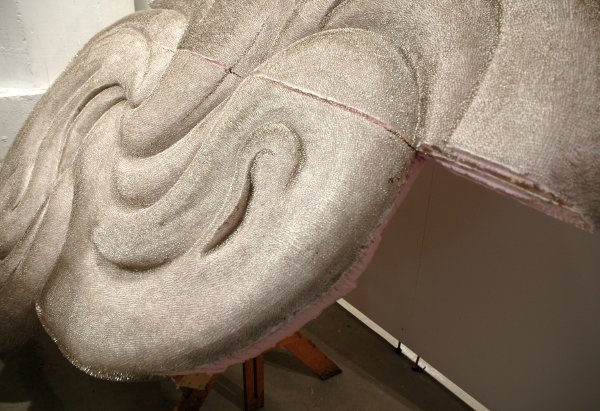 jun Yejin's damaged sculpture (large sections broken off and removed, and large remaining areas of straight pins completely flattened)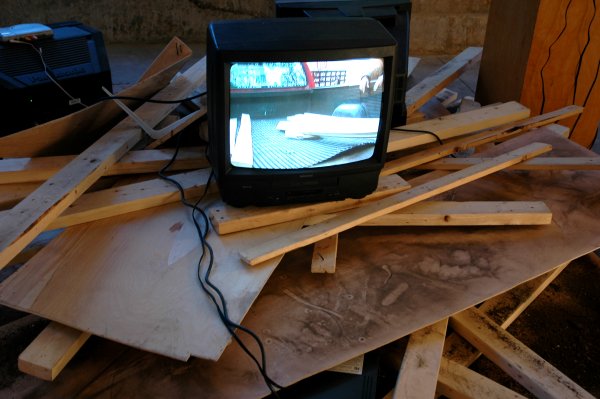 Carrie Fucile's large wooden house sculpture, as totally flattened by workers sent by Brooklyn College, including her video documentation of men loading pickup trucks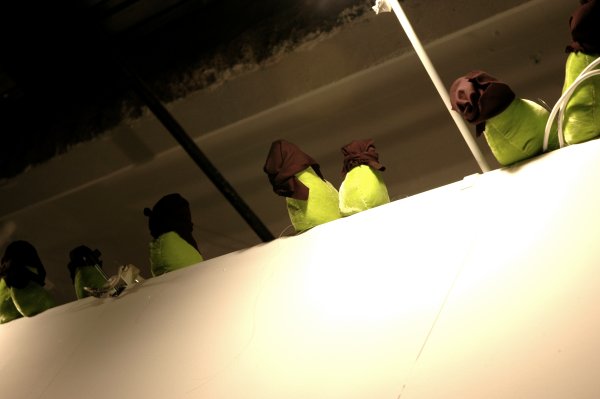 Megan Piontkowski's Brooklyn College parrots were re-configured after their initial outing in the show's original venue: While these little guys suffered damage when they were taken from the War Memorial, the artist herself has altered their appearance further herself. Tiny dark hoods now cover their heads, in a reference to the violence of New York City's summary act of art censorship and the College's ready cooperation in it.
There are more photographs on the "PlanB Prevails" website, along with an open letter from Vito Acconci, one of the few artists to be heard from on this assault on the arts and on civil rights which exploded five weeks ago.