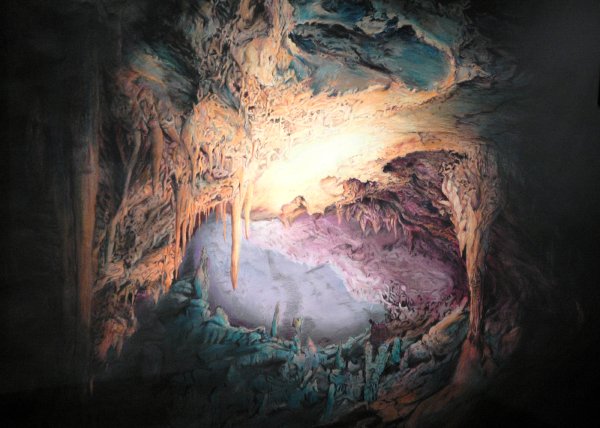 Violet Hopkins Heavens Above 2006 colored pencil and acrylic ink on archival paper 80" x 100" [installation detail]
There's no way a photograph can begin to describe Violet Hopkins enormous dark drawings installed at Foxy Production in a show titled "Entoptically Yours". The image above is a detail of a subtle [really!] pencil drawing which is more than eight feet wide. The area shown is approximately one third of the framed piece. The image which continues on the paper above and to each side is a solid not-quite-blank slate drawn with black pencil alone. The plexiglas covering enclosed by the frame only adds to the mystery and complexity of the work, displayed here in perfectly-focused and subdued lighting.


[view of entire drawing]
Incidentally, the largest drawing, more than twelve feet wide, takes up much of one wall of the gallery. If you miss the current Foxy show, you might soon have a chance to see it in Miami, where it will become part of a huge and extremely important private collection regularly open to the public.
[lower, thumbnail image from Foxy Production]