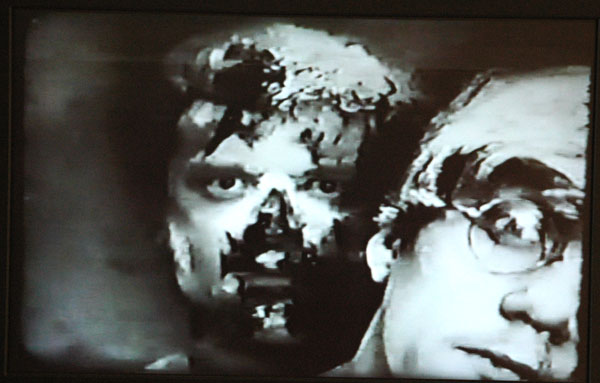 Otto Muehl Wehretüchtigung 1967 film [two stills from installation video]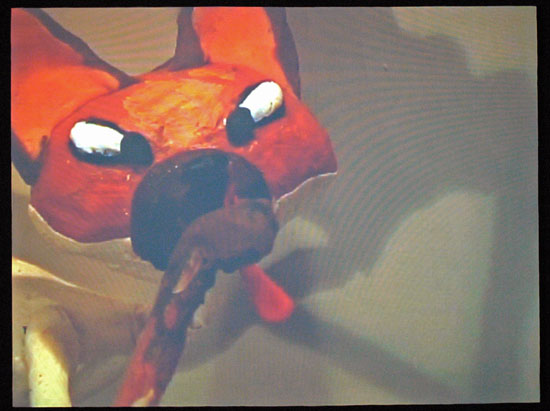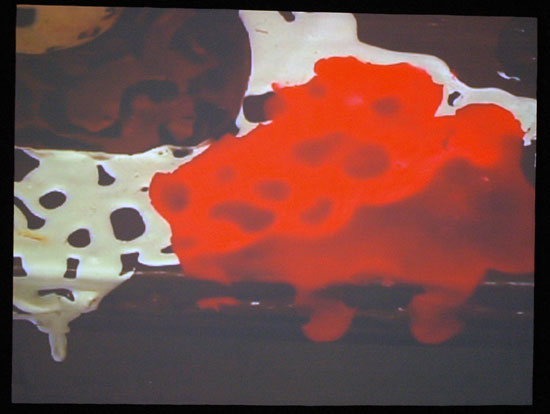 Nathalie Djurberg Dumstrut 2006 DVD [two stills from installation video]
Joao Ribas and Becky Smith have together curated a third, and unfortunately the final, show at Smith's gallery Bellwether (the complete series was titled "The Mallarmé Propositions"). The exhibition is as original and compelling as each of their earlier outings, last October and this past February. "In Defense of Ardor" presents work by Julieta Aranda, Johanna Billing, Colby Bird, Nathalie Djurberg, Dana Frankfort, Jutta Koether, Jonathan Meese, Otto Muehl, Michael Queenland, Jacob Robichaux, Jessica Stockholder and Kirsten Stoltmann.
If I were to make anything of the fact that I singled out images of the Muehl and Djurberg's videos for this post, I'd have to say I had some kind of affinity with what the curators describe as their "transgressive states of Dionysian or 'id-ridden' intensity", but actually my shots of these two videos merely happened to be more successful technically than any of the others I attempted.
Almost any of the other works alone might have been worth a visit to a show heroically designed to "contrast the corrosive, enervation effect of cynical reason" [from the last line of an intense press release which describes these pieces as serious alternatives to irony, cynicism and detachment].