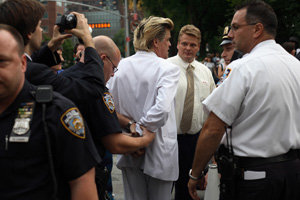 (too much free speech)
An AP story in Newsday reports that Reverend Billy was arrested Friday night while loudly reciting the First Amendment to police.
Could anything make it more clear what's going on in this city? It's time for all New Yorkers to form a larger critical mass of resistance to this dangerous lunacy before we've lost our liberties for ever.
Gothamist tells us that a press release the blog received after the arrest of a man whose day job consists largely of exhorting people to abandon the products of large corporations and mass media, observes that "while the NYPD surrounded and intimidated last night's Critical Mass cyclists, a line of several hundred shoppers formed just across the street to purchase the new iPhone, blocking pedestrian traffic and forcing people to walk in the street." Whoa! This is all way, way beyond irony.
Go here, to Matt Semel's annotated flickr set of images, for a good-humored, inside look at Friday night's bike ride and the police tension which preceded it.
[image by Konstantin Sergeyev from revbilly.com]