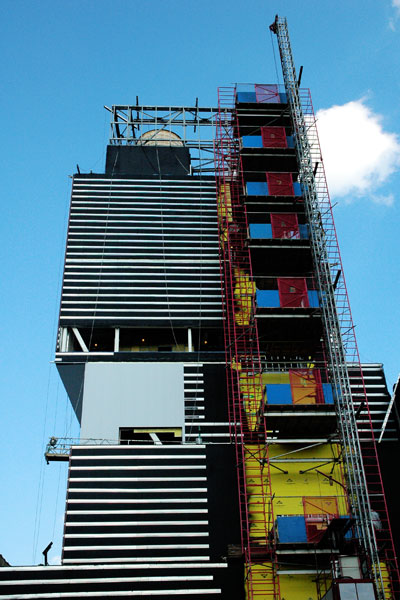 coming soon to a changing neighborhood
Looking at this stage more like the Pompidou than the casual stack of clean, minimal, white spaces which will eventually sit on the side of one of the oldest and most historically-evocative streets in New York City, the new New Museum is slowly rising above [most of] the roofs of the Lower East Side, where it will soon help to re-define the cultural landscape of an entire community.
We have already been seeing a number of good galleries opening up all over the neighborhood, and I wouldn't expect that trend to slow down any time soon. My only question is what took them so long?
In spite of the fact that I live almost on top of the Chelsea gallery ghetto, I more than welcome a new destination: At least on visits to that side of town art junkies will be able to get a drink or a snack while making [our] unflagging rounds.
ADDENDUM:
Looking at this image this morning I realize I should have mentioned how impressed I was several years ago when the Museum announced the location of their new building. It's was a coup for the architects, Sejima + Nishizawa/SANAA, and for the institution, and of course a boon for all New Yorkers. The building is at the eastern end of Prince, a street which has attracted interesting tenants at least as long as I've been coming to the city. It comes to a full stop at Bowery, and when I took this picture I was roughly across the street from the site of the legendary Manny's music shop (where I first heard John Zorn play live). Even the great gothic cathedrals of Europe don't always get such a grand parade for a front yard.