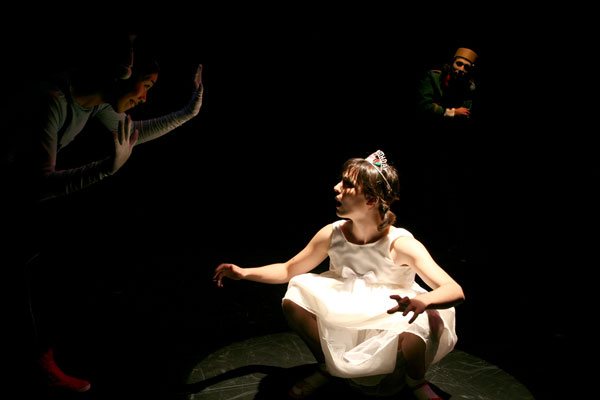 Saori Tsukada, Katie Brook and Joseph Keckler: Everywoman/Everyman, Birth, Death
We saw John Moran's latest music-theater-dance work, "What If Saori Had a Party?", last night at PS122. This latest treasure by the composer responsible for the operas "Jack Benny!", "Book of the Dead (2nd Avenue)" and "The Manson Family: An Opera", among others, is put together on a very small physical scale and I think it must have lasted all of 40 minutes. The modest size is especially remarkable because "What If" addresses the largest question we are capable of addressing as human beings - our own mortality - even if it is inspired by Japanese anime/children's TV. It may be almost as baffling to us as its original inspiration is to an unintended audience, but I haven't been able to forget either the music or the moving images.
A computer voice tells Saori early in the libretto/score, "You should look at the calendar". It seems we can't have birthdays without dying in the end, and in the end that may actually be all for the best, even if it still leaves a lot of room in between for negotiation.
Performances continue at this East Village venue through next Sunday, November 4.
"No she ditn't!" says the girl in the opera to her friend, over and over again. Now we're back on 2nd Avenue, but actually we could be just about anywhere in urban America.
When we had returned home and were sitting down to supper we put on Moran's "Book of the Dead" (we have every CD he's ever produced) and listened carefully to every word, every sound, once again. With this underknown genius, words and both ambient and concrète sounds are the composed music itself; there is no distinction. I only wish I had also been able to see it when it was produced at the Public Theater in 2000 (the blurry stills I've seen are a terrible tease). Once again we immediately found ourselves totally immersed in an orchestrated world Moran has been able to make oddly both more familiar and more exotic than the one we normally inhabit.
The timing must be just a coincidence, but I seem to have put off my pumpkin shopping: I can't think of a more fitting way to begin a celebration of the eve of All-Hallows' Day or All Souls Day or, yes, the Day of the Dead, than a visit to "What If Saori Had a Party?" on 1st Avenue and an observance of [the] "Book of the Dead".
For more on Moran and an account of the last piece he had shown in New York, scroll halfway down through this entry. There's also this NYTimes piece from last year.
Moran's CDs are very hard to find, unless you manage to get to a performance, but inside my copy of "Book of the Dead" there's a small slip of paper with the suggestion that those who are interested could write to [email protected], and fill in the subject-header: "CD-Orders". I don't know whether this will still work.
[image by Rachel Roberts from PS122]