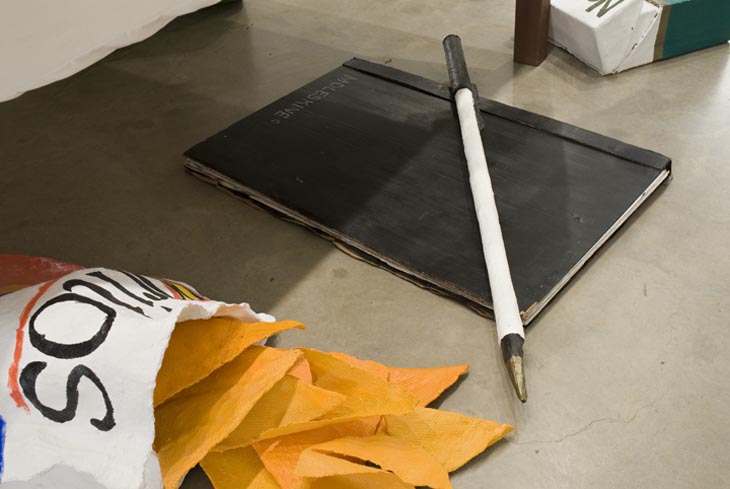 Will Ryman The Bed 2007 papier-mâché, magic sculpt, resin, acrylic, wire mesh, wood, cloth [detail of installation]
(the artist taking notes)
No, that headline is not about the fact that Marlborough doesn't seem to have ever shown artists whose work is photo-based, but rather that the gallery will not permit photography goings-on in its spaces.
This afternoon I watched the attendant at the front desk race across the floor to tell an unsuspecting enthusiast visiting the current installation by Will Ryman that pictures were not allowed. When I followed her back and asked whether the rule was general or only for this particular show, she said that it was regular Marlborough policy, and added by way of explanation (I'm paraphrasing here) that the owners didn't want people to use their photos for something unauthorized.
Sure, that would be something like, um . . . selling t-shirts with images of Will Ryman sculptures? I don't think the artist is going to worry about that. Nor do I think he would regret having visitors extend their memory and their pleasure in what should be treasured by all, circulated and displayed, as a demonstrably visual art. Even better, what about the ability of photography (the modern word of mouth) to enable others who are unable to visit the gallery to share in the pleasure of someone who can, before the work itself disappears into the home of a rich collector? Maybe the unauthorized snapshot would be simply the equivalent of taking notes.
Perhaps when we visit Marlborough and galleries with similar policies we're actually in the wrong century or on the wrong continent: Photography hasn't been invented yet, or it must be some foreign sorcery being used to steal our souls (or "copyright"). Would a visitor be permitted to sketch the work or scribble some paragraphs on a pad?
Barry and I have admired Will Ryman's work for some time and both of us have mentioned his show appearances on our sites. I'm very sorry that our shared position on the stupidity of photo prohibitions will prevent us from reporting on such a major event as this one. The Marlborough Gallery has never been featured on either of our blogs, but because it was Ryman's this show was included in the listings (we made it a pick) on ArtCal listings, our on-line edited calendar of New York gallery shows. As long as the management maintains its current policy it won't happen again.
[image from Saatchi Gallery]