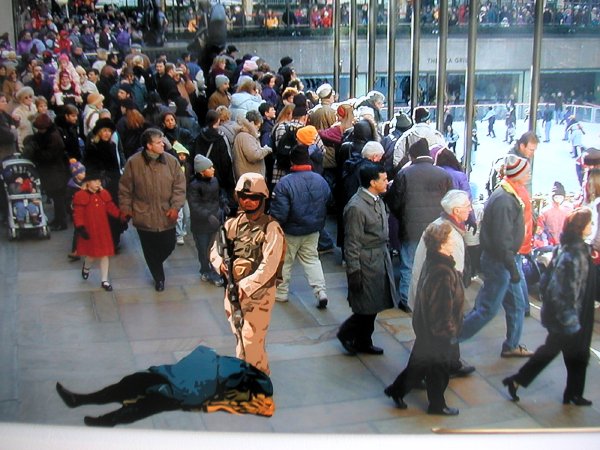 Grace Graupe-Pillard Soldier/Rockefeller Center NYC (lightbox still from the series, "Interventions") 2003-2005 [large detail of installation]
I saw Grace Graupe-Pillard's installation at The Proposition almost a week ago and I was impressed, but I first looked at my digital pictures only this afternoon - while listening to Beethoven. The memory of her work compelled me to click onto an online version of the video projection show (with its own soundtrack, arranged by Elizabeth Grajales and Billy Annaruma) and it looks even better than I had remembered it - always a good sign I think.
Clarification: While the soundtrack of the gallery version of the video was composed by Grajales and Annaruma, the online version was composed by Deb King
The artist's statement:
In 2003, shortly after the onset of the Iraq War, I began working on a series of photographs entitled INTERVENTIONS focusing on the horror and human cost of wars being fought in "far-off places." These photographs depict images of soldiers, car-bombings, ruins, explosions, and refugees, which I have digitally embedded into the familiar streets and parks of New York City, Baltimore and the New Jersey wetlands. Using the computer and digital filters, the "implanted" imagery borders on the abstract, with heightened color and kaleidoscopic patterns portraying the ordinariness of our everyday "reality" blown apart.

INTERVENTIONS attempts to make visually evident the ongoing tragic repercussions of war in our own "backyard," as well as the equally powerful manipulation of the electorate through the "politics of fear."