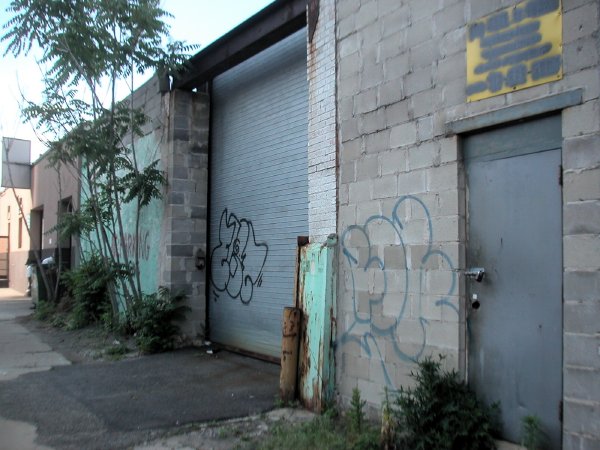 a look at the Sculpture Center's immediate neighbors on a quiet Sunday afternoon, perhaps a good part of the explanation of its relatively edgy appeal for artists and visitors; I imagine it's even more interesting during the week
The L train to Williamsburg wasn't available last Sunday (the MTA is figuring out how to get a creaky subway system to run without conductors or even, ultimately, trainmen). We had gotten to the 14th Street station before we found out that Manhattan had been cut off from the Brooklyn mainland, so we turned around and headed for Queens and a visit to the Sculpture Center.
The current show, "Make it Now: Sculpture in New York," includes very recent work by 28 New York-based artists and collaboratives.
The artists in the exhibition include Frank Benson, Nicole Cherubini, Andrea Cohen, Charlie Foos, Luis Gispert, Guyton/Walker, Dave Hardy, Rachel Harrison, Leslie Hewitt, Klara Hobza, Jessica Jackson Hutchins, Nancy Hwang, Gareth James, Vincent Mazeau, Corey McCorkle, Robert Melee, Navin June Norling, Ester Partegás, Seth Price, Matthew Ronay, Bryan Savitz, SOL'SAX, Jean Shin, Gedi Sibony, Lisa Sigal, Roberto Visani, Phoebe Washburn, and Fritz Welch.
It's an extraordinarily diverse survey, and some of the pieces are pretty wonderful.
What follows are images of a small sampling of the work, their selection at least partly dependent upon how well a piece photographed.


Phoebe Washburn Poor Man's Lobster 2005 wood, painted gravel from courtyard, mixed media 15' x 18' x 14' [large detail of installation]


Leslie Hewitt Grounded 2004 cast iron railing with Sankofa detail, brick, cement, particleboard and housepaint 5' x 4' x 6' [installation view]


Nicole Cherubini A Pair of G-Pots with Lions 2005 ceramic, luster, fake gold and silver jewelry, chain, crystal ice, white, red and brown rabbit fur, rhinestone brooch, marbelized formica, black Plexiglas, blue foam, tar gel, plywood 36" x 68" x 53" [installation view]


Lisa Sigal Purves Gardens 2005 sheetrock, joint compound, insulation board, house paint 15'7" x 35' [large detail of installation]


Robert Melee [large detail of installation of, from left to right, Poplar Blinds, Him and Her] all 2005


Fritz Welch under guests to drift living 2005 wood, paper, vinyl, fiberglass, plastic, graphite, iodine, paint, bones, dust, glitter, fabric, string, dimensions variable [small detail of installation]

Charlie Foos Monument with Anthem 2005 video loop, tape player, pedestal [still from video on monitor; detail of installation visuals]


Nancy Hwang Impromptu 2005 video recordings of conversations (on site), conversations in the green room (on-site), Village Voice back-page ad (off-site), and audio recordings of piano (off-site) [detail of installation visuals]