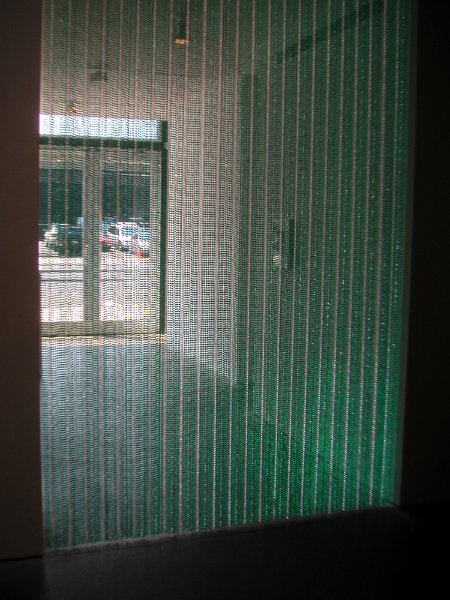 Felix Gonzalez-Torres "Untitled" (Beginning) 1994 plastic beads and metal rod 115" x 79" [installation view]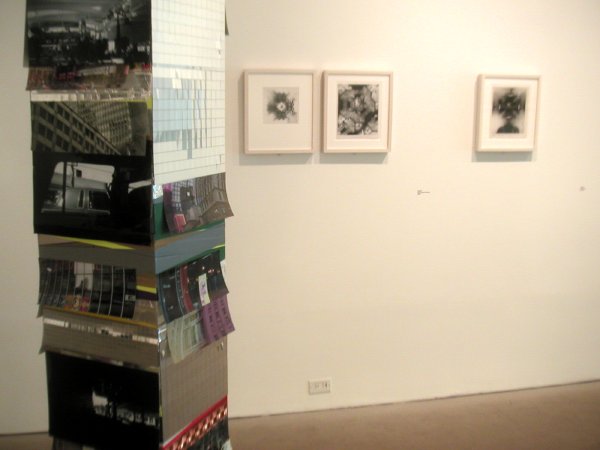 view of gallery installation, including a detail of Iza Genzken's Untitled 2001, and on the wall behind, three Weegee gelatin silver prints from the 1950's: (dancer), Self-Portrait, and (gold painted stripper)
A wonderful show, beautifully installed, but how could it be anything else when the entrance just inside the door at Alexander and Bonin is defined by Felix Gonzalez-Torres's fabulous beaded curtain?
Art from as far back as 50 years ago looks as fresh as work produced as recently as this year in service of the theme, "Mirage," around which the exhibition was built by its curators, Julie Ault and Martin Beck. Okay I don't quite get the show's conceit from reading the press release, but it looks good and something interesting seems to be going on here.
The other artists with work here are the Atlas Group, Lewis Baltz, Jennifer Bolande, Robert Bordo, Moyra Davey, Peter Fend, Rodney Graham, Emily Jacir, Robert Kinmont, Mary Lum, Stephan Pascher and Florian Pumhösl.