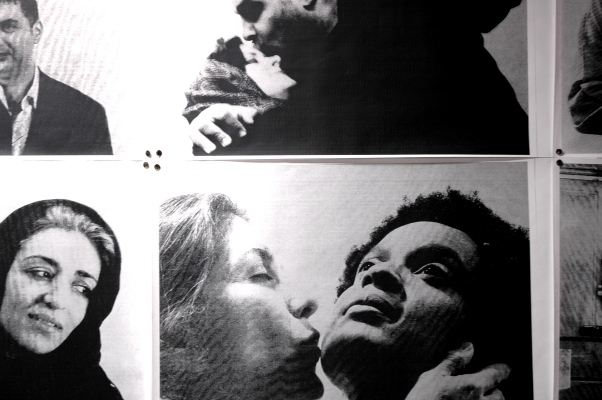 Aissa Deebi [studio view]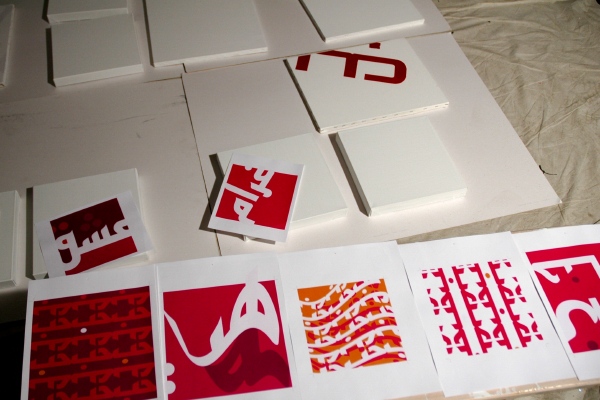 Aissa Deebi [studio view]
Eager to respond to the artist's invitation, we recently enjoyed a visit to the short-term LMCC studio space of Aissa Deebi. We got there well in advance of next Tuesday's open house, when we can expect to see more complete versions of the work shown in detail above.
The New York-based Palestinian artist has stepped away from the subjects, war or isolation, of the works we had seen before in Elga Wimmer's space and at the Queens International. At least for the time being we will be looking at the world of love when we come to his art.
The image at the top is of several working prints which document the reanactment by couples (in some cases strangers to each other) of romantic scenes chosen by themselves from Arabic movies in the artist's collection. The second shot is of a series of canvases painted with various caligraphic forms of the arab word for love, and I believe he said that the colors used are those specifically forbidden to islamic art.
The shape and even the form of the final work inspired by the films was still not pinned down at the time of our visit, and none of us really knew how the canvases would be shown, but it's precisely this raw or immediate exposure to the creative process that I find most exciting about art in any medium, including that of performance. There was a time when I worried that I was really only interested in things not finished, but I think I've now sorted that out, to my own satisfaction at least. Finished is okay; lifeless is not.
The studio open house, which includes some ten other artists or collaboratives, is next Tuesday from 6 to 8. Details.