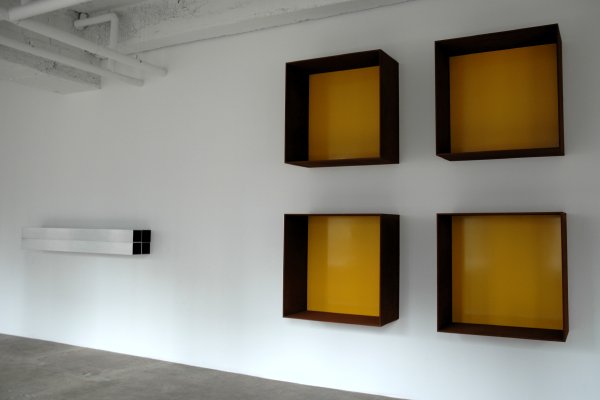 Donald Judd's Untitled, 1990 (90-2b Menziken) left, and Untitled, 1991 (91-5 Donaldson) right
We really had intended to see the display at Christie's of the 26 Donald Judd works which the Judd Foundation had decided to de-accession, but we had completely forgotten about going until we ran into Tony Feher just as we arrived at ART ROCK yesterday. He told us we had a few minutes before the doors closed, in a certain way and for all practical purposes, forever. We thanked him and ran off towards 6th Avenue.
We passed on last night's auction itself, but only because the current configuration of our walls (works competing with each other salon-style) just wouldn't be able to offer a proper setting for the work. Oh, and were those estimates in the six and seven figures? Where are people putting this stuff?
I had captured this one image before a guard politely asked me not to take pictures. I was then so intimidated that I didn't even point my camera toward the (sparkling-clean) 21st-story windows to bring back images of the many roof gardens still decorating the higher planes of Rockefeller Center three quarters of a century after it was begun.
This stuff has now been sold, so I didn't think a peek at some of the merchandise could do any harm now.