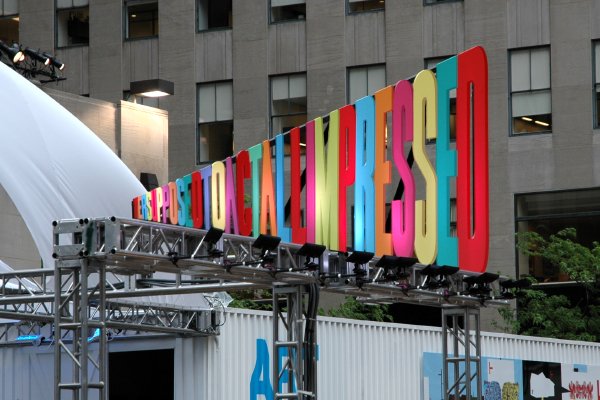 "WERSUPPOSEDTOACTIMPRESSED" is Wayne White's cheeky contribution to ART ROCK 2006, which opened on the plaza above the golden Prometheus in Rockefeller Center last night. The sign hovers just in front of and above the central pavillion of an art fair which is more than a match for its elegant surroundings. There's great comfort in knowing that White was chosen to represent Clementine, the gallery which is behind this wonderful midtown visitation, now in its second incarnation. Presumably Abbie and Elizabeth are cool with their artist's delicious sarcasm.
But the show is impressive, both for the fact that they've pulled it off - again, and for the quality and frequently the great fun of the art which awaits the huge variety of people who pass through the plaza at Rockefeller Center each day.
The show continues through May 21.
Here are some more installation images, adding up to only about half of the sixteen artists shown:


Kristof Kintera on the right and Susan Giles on the left, both details


David Noonan


Stephen G. Rhodes detail


Sanford Biggers detail

Shannon Ebner detail


Larry Mantello detail


Brody Condon detail of video still


Karin Weiner detail