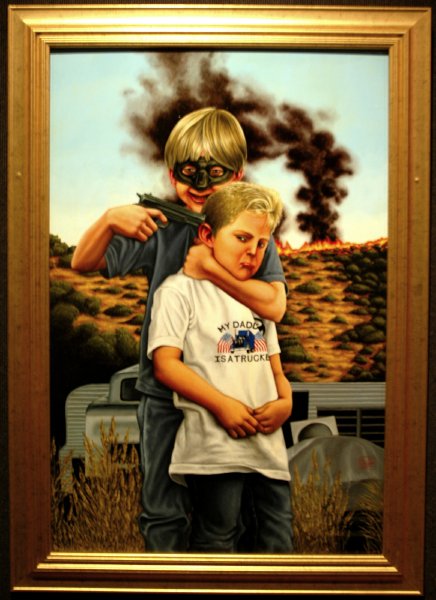 Helen Garber Young Americans 2004 oil on panel 35.5" x 29.5" [installation view]
31 Grand has come to Manhattan! No, the space is still anchored to its eponymous address, but the two gutsy Williamsburg gallerists in charge have been chosen to mount a show, "Love Will Tear Us Apart", in the 19th-century main, or Grand salon of the National Arts Club on Gramercy Park.
The "clean white space" was already a cliché decades ago, but there's still more than a little usefulness in being able to show art for the first time in a way which neutralizes its immediate environment.
Megan Bush and Heather Stephens made no compromises in introducing their aggressive aesthetic to the ancient club's dark brown walls, spaces which on Tuesday night seemed to be anxiously awaiting the return of familiar portraits and landscapes. Maybe I would have been more comfortable with how this odd room worked with this show if I had at least an ounce of the Goth in me [that is, other than my Germanic origins], but I think sometimes serious darkness needs some lightness to be seen. Having already come across the work of most of these artists inside white walls in Brooklyn, I have to say that much of what is being shown at the Arts Club this month would be a challenge anywhere.
That's of course what attracts me. This provocative show would be an eyestopper if it were hung on flowered wallpaper above textured wall-to-wall capeting and lit by bridge lamps. It shouldn't be missed as installed in the Tilden Mansion.
In addition to this and other paintings by Helen Garber, the installation includes exciting work in a number of media by Claudine Anrather, Maureen Cavanaugh, Mike Cockrill, John Copeland, Jan Dunning, Jon Elliott, Magalie Guerin, Jeph Gurecka, Carol "Riot" Kane, Jason Clay Lewis, Francesca Lo Russo, Vincent Skeltis, Adam Stennett, Barnaby Whitfield, and Jeff Wyckoff.
[the image shown above is from the artist's series, "Love Letters From Crawford"]