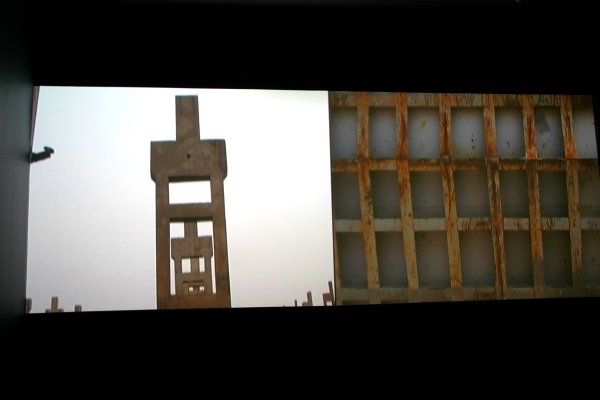 Gulnara Kasmalieva and Muratbek Djumaliev Into the Future 2005 video [still from installation]
Plus Ultra's current show may be introducing many New Yorkers to the contemporary art of Central Asia for the first time, but the quality of the work of Gulnara Kasmalieva and Muratbek Djumaliev should ensure the door will never be closed again. From the press release:
Collaborating for many years, the husband-wife artists are renowned for their documentary-style video installations and photography exploring the ramifications of political upheaval and modernization.

Working in their hometown of Bishkek, Kyrgyzstan, which has been the center of change and protest since the collapse of the Soviet Union and recent overthrow of the widely criticized administration of former Kyrgyz president, Askar Akayev, Kasmalieva and Djumaliev exhibit here their 2005 dual-channel video installation "Into the Future." Filmed in Siberia, "Into the Future" offers a direct and thoughtful verification of the effects of change and transformation. Through the juxtaposition of slowly changing images of industrial wastelands and the matter-of-fact recording of people boarding a ferry, they offer a complex, non-ironic look into that ambiguous point at which the future becomes the present and how we cope with that.

In addition, Kasmalieva and Djumaliev present a selection of photographs from their "New Menhirs" series. Referencing the giant stone structures (or "menhirs") that jut out of the ground, marking prehistoric burial grounds, throughout Central Asia, this series catalogs desolate, often destroyed landscapes of factories and their surroundings. Standing, like menhirs, as monuments to a lost epoch, the ghostly structures in these images symbolize the contemporary stagnation that has replaced the brighter future they once promised.
For a broader sample and an exciting look at the sophistication of what is being done in this part of the world page through the catalog lying on the counter, "In the Shadow of 'Heroes'". Djumaliev edited it for
Art East
and the
2nd Bishkek International
in 1905.