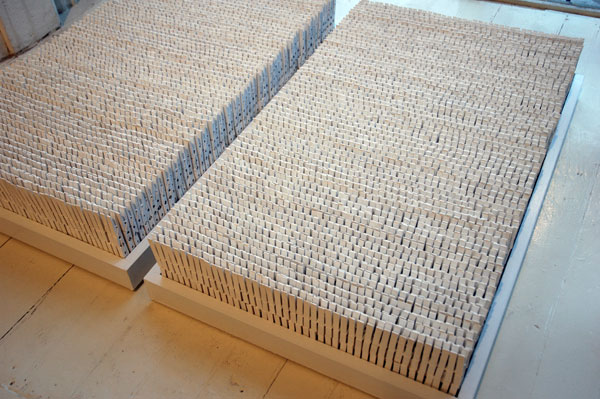 Ryan Sarah Murphy Untitled (Plots) 2000 wood, 10,000+ clothespins, paint, gesso, glue, each component 34" x 21" x 6"
Ryan Sarah Murphy's installation was lying in the sun of the east window, just to the right of the door, when I walked into Outrageous Look last Sunday. I checked out the beautiful Gavin Green show in the gallery's main spaces, and went back to the window. I was captivated.
It's now inside my head, as if I were still looking at it. I can't really adequately account for this. It's a simple pair of found wooden frames enclosing thousands of upright wooden clothespins, everything whitewashed. I see more than one metaphor working here, but in the interest of your own visit I'll keep them to myself.