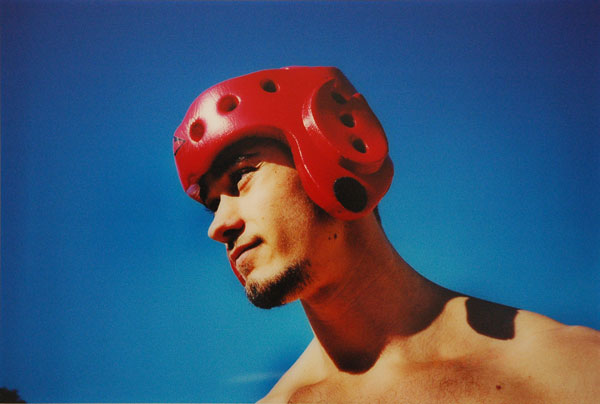 Slava Mogutin Joey San Francisco, 1999 archival C-print mounted on aluminum 30" x 20"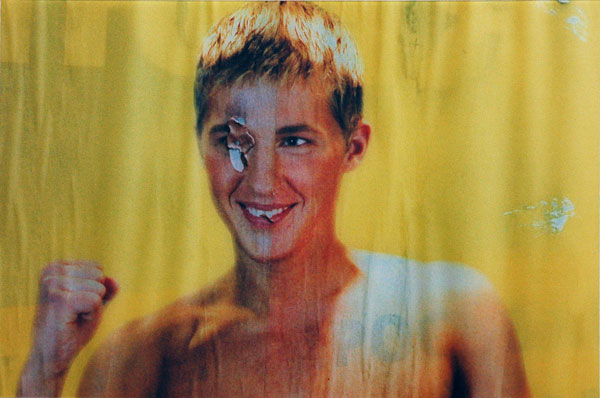 Slava Mogutin Yellow Billboard Moscow, 2004 archival C-print mounted on aluminum 30" x 20"
There's nothing about this installation on the gallery's site, so I'm not sure about its status or (perhaps more importantly for visitors) its dates. I'm referring to an intense show of some work by Slava Mogutin and Justin Beal which I saw in the small room at Bortolami almost two weeks ago. Since I'm unable to call to the gallery office at this time of night, I'm going to assume it will remain up until August 31, when the show in the larger space closes.*
These ten photographs by Mogutin, sweetly-badass Russian poet and American visual artist, were made over a period of the last seven or eight years. I've seen some of them before, but I enjoyed the intelligence, the humor, the sophistication, the intimacy, the eroticism and the beauty in all the work on those walls as much or more than I have ever enjoyed his art before - which is to say, a lot.
Unfortunately I missed capturing an image of either of Beal's elegant floor sculptures, but I'm looking forward to seeing more of this artist's work. The furniture-size pieces at Bortolomi are composed, as they often are, in a mostly-monochromatic construction with at least one transparent element and any number of other re-configured common objects.
*
UPDATE: The gallery has now told me that "back room" will be open until August 28.