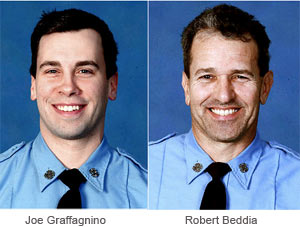 It seems that the tangled story at which I could only hint in my Tuesday post, "Ayn Rand linked to Deutsche Bank skyscraper tragedy?", has caused some serious bustle around the city desk at the NYTimes.
The lead story on the front page reports that the firm whose creators picked the Ayn Rand hero John Galt for its corporate name was a paper corporation with no employees. It had been assembled to insulate or hide its "integrity"-challenged owners and officers from the view of its clients, the people and officers of the New York community. This is the company which was given the lucrative contract to perform one of the most hazardous and certainly one of the most visible jobs in the city if not in the entire country.
Two firefighters died fighting a fire inside the building last Saturday, probably as the result of criminal negligence.
Meanwhile, inside the same section of the paper we learn in another story that the New York Fire Department hadn't inspected the Deutsche Bank building's standpipe or sprinkler system since 1996, in spite of the fact that twice-monthly inspections were mandatory for buildings under demolition. It seems the department was also aware that the sprinkler system was not working. Some have argued that the FDNY was unwilling or unequipped to enter a building permeated with the toxins that had necessitated its condemnation, but since demolition began firefighters had been in the building on at least two occasions for reasons unrelated to the standpipe or the sprinkler system.
[image of the two firefighters from NYFD via Gothamist]