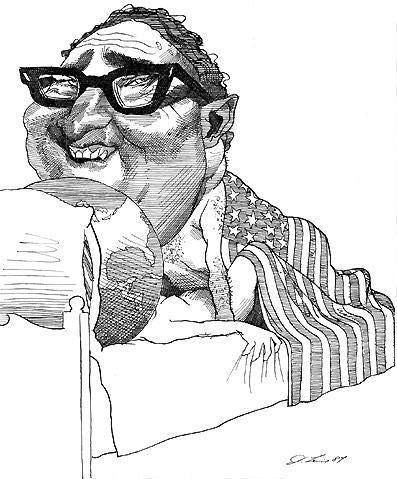 the Realpolitiker's very favorite Tracht
UPDATE: For concerned citizens of the world who might find the information useful, I've learned that Kissinger is expected to speak at the Parade Gala Benefit Banquet scheduled for 7 o'clock tonight, Friday, at the New York Hilton & Towers, 1335 Sixth Avenue, between 53rd and 54th Streets.
Would somebody please tell the folks behind New York's German American Steuben Parade that having Henry Kissinger as a grand marshal is not cool at all. The kind of war crimes for which this man is wanted by governments in a number countries all over the world may be very American these days, but that doesn't mean any ethnic group should be proud to be associated with their author, even if it has a tenuous relationship with the land of his birth.
I'm an American of unmixed German ancestry going back generations, I've studied U.S. and German history, and I've studied and lived here and in Deutschland, so I might be given some leave to say that I suspect the folks living in what the chairman of Saturday's event calls the "alte Heimat" would not be so thick as some of their cousins over here seem to be. German Germans also generally know their history pretty well - for significant historical and moral reasons.
The big event is scheduled for this Saturday. I have to be in Greenpoint that afternoon, or I'd be there physically to remind him that not all of us have forgotten what he's done. The parade starts at noon, and runs uptown on Fifth Avenue, starting at 63 Street and ending at 86 Street. I'm not sure how these thing work, that is, I don't know where a so-called Grand Marshal might best be spotted, but there is a reviewing stand somewhere along the route of the march.
Tchuss!
[David Levine image from The Corsair]