maybe making a world of difference, and one of correspondence as well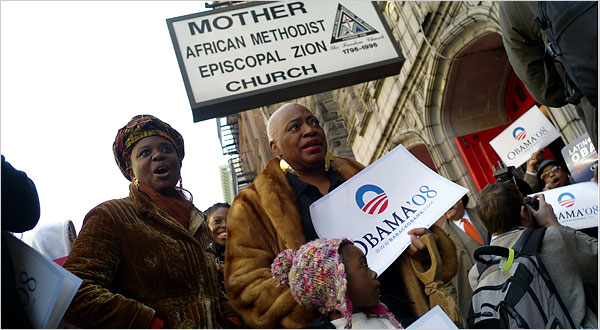 If the candidates could not be everywhere on Sunday, their allies could try. Gloria Walsh, center, a retired schoolteacher, paused to campaign for Barack Obama in Harlem, with Cordell Cleare and Mrs. Walsh's granddaughter, Haja Barfield, 3. [NYTimes caption]
A lot of us will be voting in primaries tomorrow. Maybe that calls for a whoopee, maybe not.
For many of us there's nobody now running for president with whose political positions we have much genuine affinity. I admit this is nothing new in my case, but in a nation as materially-blessed as this one I have no problem laying the blame on an absurdly-frightened, ultra-conservative population rather than my own Leftist soul.
Still, I can't quite bring myself to stay out of the discussion, at least not yet. There is not enought of a distinction between the expressed positions of Hillary Rodham Clinton and Barak Obama to make a rational choice, and even after all of our exposure to their separate personalities, while I know who I might "like" more, I don't pretend to know what kind of a president either might be as an individual. But there's something else going on here.
For me a vote for Obama is not really a rational choice; it's a vote for a dream, a dream which can be shared by people who can make a difference, and they may just do so. That's all I can expect of my mark this time, but it may turn out to be a lot. I think we have to go with the dream, since the disastrous wounds we have suffered over the last seven years make it clear that triangulation and incrementalism will not be enough to save the country. If it takes a dream to awaken a much-abused (and self-abused) citizenry, then I can try to be a dreamer one more time.
But in the end we are the ones who will have to do the work; the dream and the man can only inspire, perhaps to things not yet imagined by either.
Oh yes, there are also these four not-insignificant points, arguing against a Clinton candidacy, outlined yesterday by Bloggy. They fester somewhere between the categories of "positions" and "personalities" to which I referred above.
[image by Ozier Muhammad for the NYTimes]