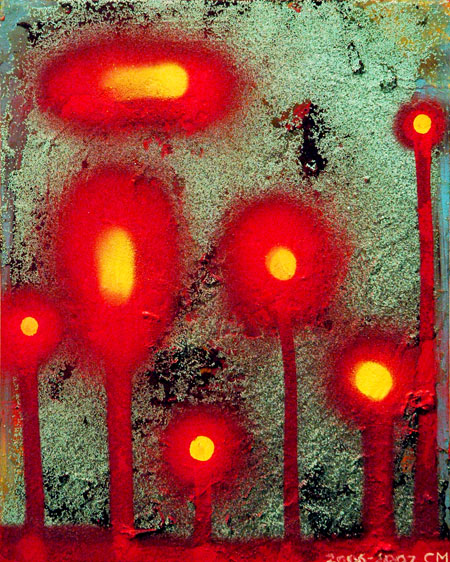 Chris Martin Glitter Painting 2007 oil, spray paint, gel medium, collage on canvas 54" x 45"


[detail]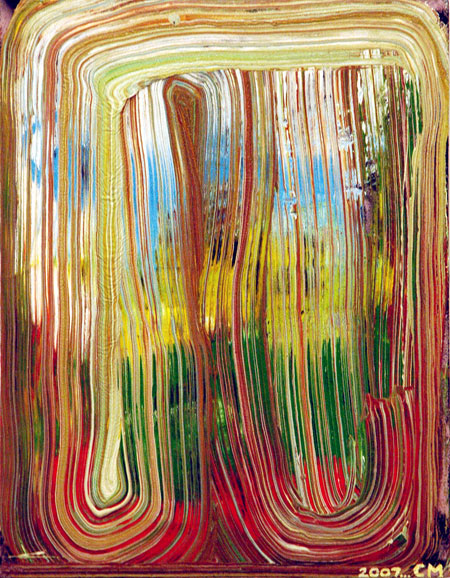 Chris Martin Broom Painting 2007 oil on polyester 48" x 38"


[detail]

Chris Martin Untitled oil and spray paint on canvas 45" x 54"
I don't know how much more I can say about my love for Chris Martin's paintings, but his latest show, now installed at Mitchell-Innes & Nash until March 1, did not disappoint. There are a few canvases which relate to images and materials done just before this body of work (all of which is from 2007), but there was much that moved into new territory, the kinds of territory Martin is so good at discovering or creating fresh.
I have but one cavil, but it takes absolutely nothing away from my admiration for this show: None of the paintings is particularly large, especially considering the scale of this gallery, and we know the artist is an extraordinary master with canvases executed on a monumental scale. Maybe he's waiting for the next time; I know I am, whatever it brings.
The first Martin images I ever saw were of some very large black and white paintings reproduced inside a thin catalog I picked up at Pierogi 2000 early in 1997. Unfortunately it was the week after the show had closed. I didn't know I'd have to wait four years before I saw the real thing. But the reward was great, and only partly because of the great size of two of the canvases shown at Malca Fine Art (one three-panelled work was 36 feet wide) in the spring of 2001. I think I could live with the aura of either of them for the rest of my life.