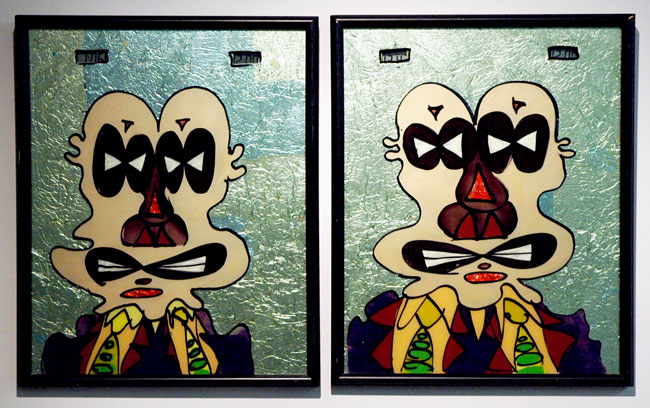 Brian Belott Trinity Insurance Sales Blob 2007 acrylic, glitter, foil, spray paint, oil marker, led clocks on plexi-glass in plastic frame 25.25" x 38.5" [installation view of diptych]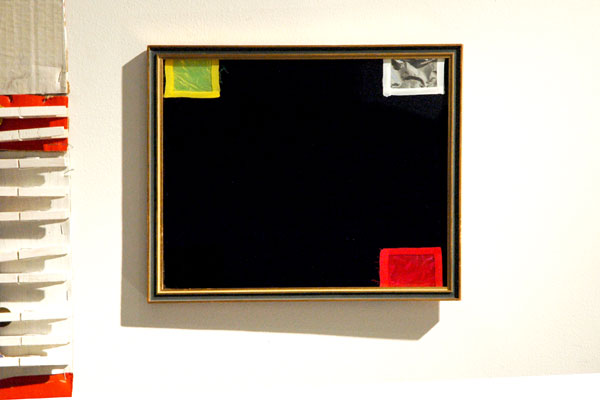 Brian Belott Untitled (small geometric) 2007 glitter, foil, acrylic, spray paint, oil marker on plexi-glass in found frame 13" x 11" [installation view, with detail of artist's idiosyncratic musical clothespin and key gallery garnish to the left]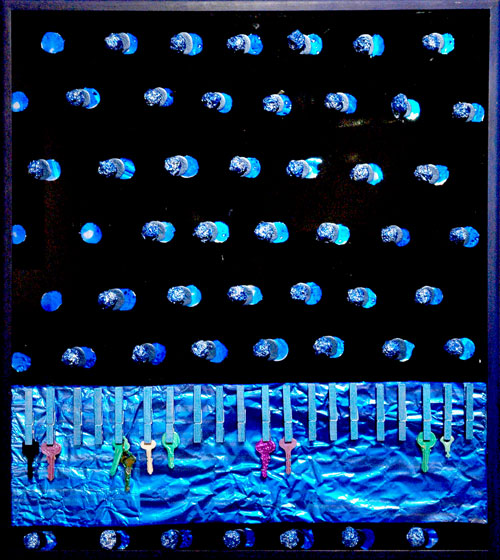 Brian Belott Blue Tin Balls with Keyboard 2007 acrylic, glitter, foil, spray paint, oil marker on plexi-glass in metal frame 29" x 26"
You won't see these images if you head over to Canada now (unless they've somehow escaped getting picked up by savvy collectors, and in that case you might want to ask to see them). The show, Brian Belott's "Swirly Music", was extended a week, making it possible for Barry and I to catch it, but it's definitely gone now.
Three weeks later however these images are still swirling in my head, and that's why I'm uploading them here today. They've waited long enough.
See Brent Burket, in the ArtCal Zine, for more on this seriously-whimsical show.