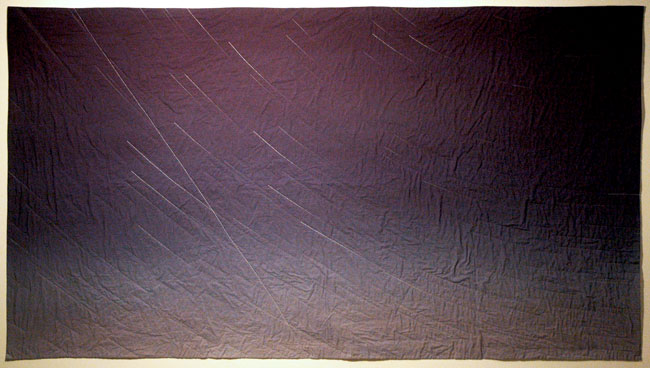 Anna Von Mertens Dawn (the first U.S. sighting of Sputnik October 6, 1957, Fairbanks, ALaska) 2008 hand-dyed, hand-stitched cotton 54" x 100" [installation view]
What a great show! The ISE Cultural Foudnation is currently hosting "In the Private Eye", a group exhibition of six artists who, in the words of the press release:
. . . adopt an investigative approach to give form to matters that are either inherently obscured or altogether overwritten by time. Aided by modern technology that affords them unlimited access to information—they seek to unearth truths that illuminate various aspects of our current reality.
The curator is
Yaelle Amir
, and the experience of Barry and I with the show, "
Quote Unquote
", she curated at NURTUREart last fall was probably the big draw for both of us. We also already knew enough about some of the artists at the ISE installation to bring us south of Houston this past Friday anyway. We were deeply disappointed we had to miss a performance by Nin Brudermann scheduled for that evening, especially after brushing up against some of its drama during a rehearsal that afternoon.
Nin Brudermann, Carlos Motta, Trevor Paglen, Dannielle Tegeder, Anna Von Mertens, and Amy Westpfahl are the artists. All of the work is very good, all of it is hot button, and all of it is very beautiful. Even beyond that, it seems my camera thought the two "quilts" of Anna Von Mertens were also exquisite simply as objects, and I quickly found myself lost in the stars. One of these hangings just had to end up here.