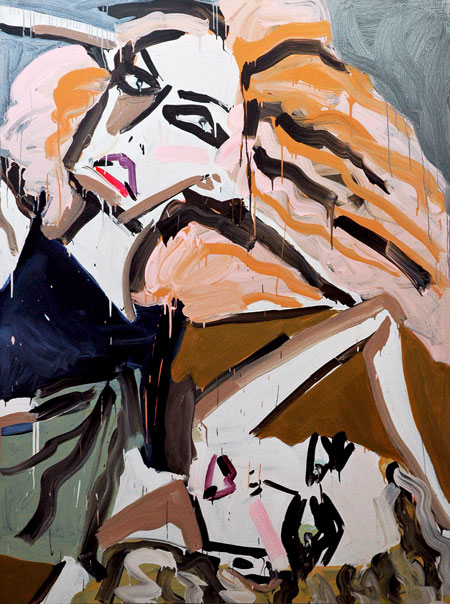 Katherine Bernhardt Silver on Gold 2008 acrylic on canvas 96" x 72"
Katherine Bernhardt's loose-limbed and painted-face of a show at CANADA, with the can't-miss-it title, "Kate, Gisele, Agyness, Natalia, Kanye, George & Simon" (George and Simon? I think I missed them) is only up for three more days. The gallery says she's been
. . . hosting a month-long sleepover party at CANADA with her favorite people and we are all invited. Fashion models, rappers and pop legends populate Bernhardt's paintings in dizzying displays of weightlessness and celebrity, all painted in a colorfully loose style on huge canvasses.
These paintings are expressionist sketches, only they're done with hardware store brushes and (unblended?) paint. They're also terrific abstractions.
I may not be the best or intended audience, because I'm absolutely terrible with celebrity rags and a lot of pop culture, but I thought Bernhardt's stuff was great.
Go visit. It's CANADA, so you probably know you want to.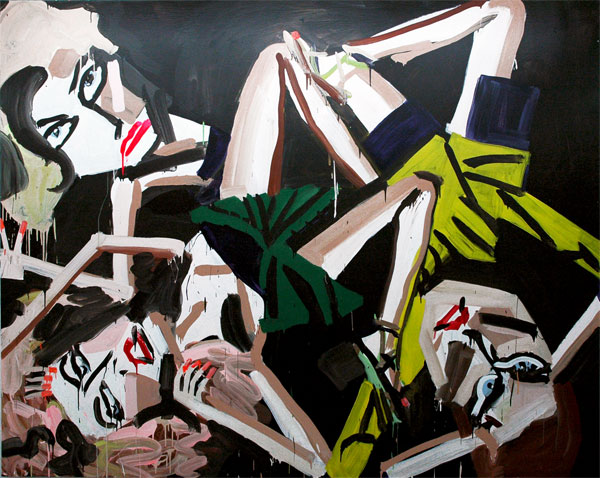 Katherine Bernhardt Triangles and Stars and Legs and Peace 2008 acrylic on canvas 96" x 102"