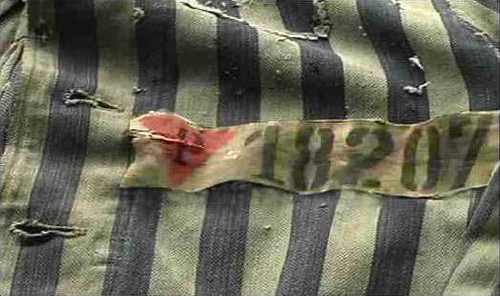 only part of the story
Berlin's memorial to the thousands of homosexuals who were variously persecuted, tortured or murdered by the Nazi regime was dedicated yesterday. The official name of this German parliament commission, Denkmal für die im Nationalsozialismus verfolgten Homosexuellen [National Memorial for the Homosexual Victims of the Nazi Regime], may be formidable, but the structure itself is incredibly simple and ineffably moving in its sylvan setting within the Tiergarten, Berlin's central park.
Positioned close to the iconic Reichstag Building, not far from the buried ruins of Adolf Hitler's concrete bunker and across the street from the German capital's very different but equally-astonishing Holocaust Memorial, the new memorial was designed by Elmgreen & Dragset, Danish-born Michael Elmgreen and Norwegian-born Ingar Dragset. The artists, who are based in Berlin, used the block shape, gray color and slight tilt of the individual steles of Peter Eisenman's masterpiece for part of its inspiration, but a small video screen embedded in a recess on one side of this somewhat larger slab will portray a one and a half minute film loop by director Thomas Vinterberg of either two men or two women kissing. In the background of the figures in the videos, which were created before construction began, can be seen the same trees which surround the memorial as built.
Near the end of a very short article in the NYTimes today: "On hand for the unveiling was Berlin's openly gay mayor, Klaus Wowereit, but no survivors." The short article goes on to explain that Pierre Seel, who was the last known survivor of the camps, died in 2005.
As a queer man who first heard about this project in the mid-nineties when it was being proposed, and having now seen images of the powerful monument that these two wonderful artists have created, I'm unable to think of this work as a memorial only to the German and European victims of 1933-1945. Many homos who were not murdered but were imprisoned by the Nazis remained incarcerated in the new Germany long after the war. Homosexuality remained illegal in the Bonn Republic until 1969 and was only formally decriminalized in 1994.
Of course queers have been persecuted everywhere on the planet for thousands of years, but especially during the last few decades some societies have managed to grow up. They now recognize and protect the rights of all their members, while nowhere in the Western world do queer men, women and children remain more abused today, both by law and society, than they do in the U.S.
Berlin's newest monument can be a memorial to all homos hunted in the past. Let it also be a foil for those who would hunt us still.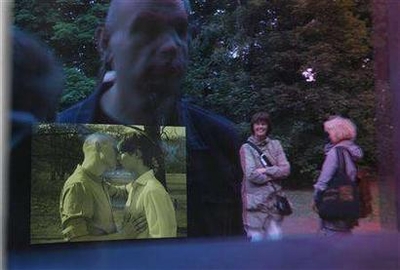 the protective glass in front of the video screen reflects viewers and surroundings
Note, and more: As the ambient landscaping is still immature, I haven't included an image here of the structure or "pavilion" in its environment. This link to the memorial's own site [currently in German only, but with a pretty exhaustive list of links in many languages]; and there's an AP video below, recorded on the grounds of the memorial during grounds cleanup, with a short statement from the artists:
[image at the top from andrejkoymasky; image of memorial's screen by Johannes Eisele from Reuters via Yahoo!]