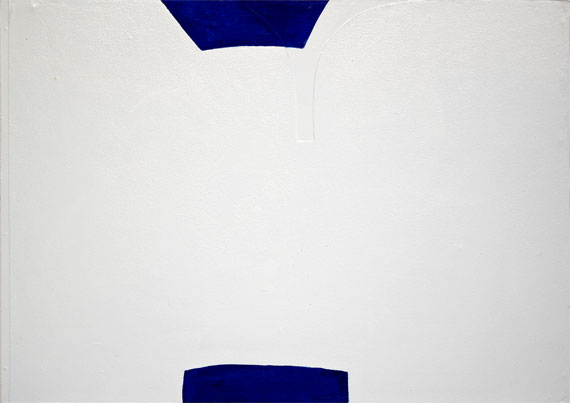 Christopher Brooks Untitled 1999 enamel on canvas and board 17" x 24" x 2"

[detail]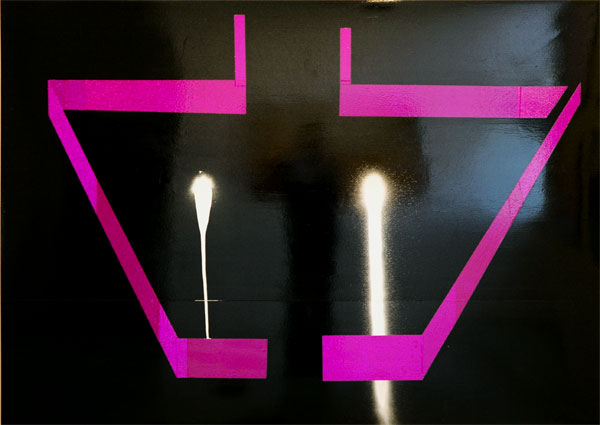 Christopher Brooks How to Lose 10 lb (easily) 2008 enamel and spray paint on masonite 5' x 7'

Christopher Brooks The Land That Time Forgot 2006 enamel and glitter paper on masonite 16.75" x 20.75"
I can never get much information on the artist Christopher Brooks when I try looking on line. He did unfortunately pick a name which makes a web search very difficult, but still I'd expect to find him surfacing more often than he does by now. I did manage to find this, but only by looking through my paper file on the artist.
Brooks first came to my attention in a group show in Brooklyn curated by Lithgow Osborne in 1997. The artist and gallery owner Rupert Goldsworthy presented solo exhibitions of the artist's work in his eponymous Chelsea space in 1998, again early in 1999 and then finally in 2000. In the first of those three shows, reviewed here by Elizabeth Kley, half of the gallery space was devoted to some large, very handsome but rather odd C-prints of the artist fully obscured and personally abstracted inside an inflated black rubber fetish suit.
I still have the notes from the 1998 show's press release, and this small excerpt tells us something about Brooks's work as he conceived of it at least up to the late 90's:
Christopher Brooks will present a series of paintings and photographic work addressing the theme of the 'institutition'. Invoking modernist establishments such as the asylum, hospital, clinic, prison and museum [!], the hard-edged geometry and institutional colors simultaneously invite and reject the human content they propose.
Ah, restraint or control. A collaged white and blue painting we found a little over a year later, which without this hint of
kink
would be as inscrutable as the photographs in that show, remains one of our favorites today; it occupies an honored place in the parlor, on what would be the prime
television wall
in regular homes. Barry and I were surprised and delighted to secure this untitled 1999 work by Brooks at the
New Museum
Benefit Art Auction of that year.
That painting and our two other purchases of the day were and remain good company, for we also went home with a terrific John Bock collage and a Roe Etheridge C-print we're still nuts about. We were and still are impecunious collectors, but we really liked the cause (and Marcia Tucker still at the helm) and I guess we were feeling pretty flush. We were also very, very lucky: All the works together barely cost us $1000, and of course all three bids were below market even then. It's been our experience and it remains our prescription: Benefits benefit everyone.
I confess to having had one tiny regret at the time: Unlike most of the other paintings by Brooks which I had seen by up to then (all of which were much larger, and each would have been way beyond our budget as a gallery purchase) the piece we adopted didn't have any tiny, weird cartoon stickers on its surface.
Last week we saw two beautiful and very shiny new paintings by Brooks in an interesting group show in Chelsea, the gallery Massimo Audiello's "C'mon shake it!—ah ah Check it!—ooh ooh". Thanks to their efforts we now have a workable bio for this elusive artist.
Finally, only a few nights ago we managed to be incredibly lucky in our draw at the Momenta Art benefit; Barry's number was pulled out of the raffle bag first, meaning we were able to go home with the work we had put at the top of our long list (we had 45 other choices written down, just in case we were going to be near the end). We were dazed and more than excited to get another Brooks painting, but judging from its reaction I think most of the room may have been fairly nonplussed.
We're obviously biased, but we think we should have been seeing more of this artist already, and I wouldn't be surprised to find stuff happening soon.
I just realized the mere existence of this post might look like part of a personal agenda. All I can say is that we have works by a truly huge number of artists. Neither Barry nor I could possibly avoid writing about some of them at sometime, but we've never sold a thing and we don't intend to. These two Brooks paintings aren't going anywhere; we're expecting Brooks will.
UPDATE: I guess I didn't look hard enough a couple days ago. While searching today for something related to this post I put another combination of words into my search engine and - voilà! - I found Brooks's own site. It has a wonderful store of images of work as far back as 1996.