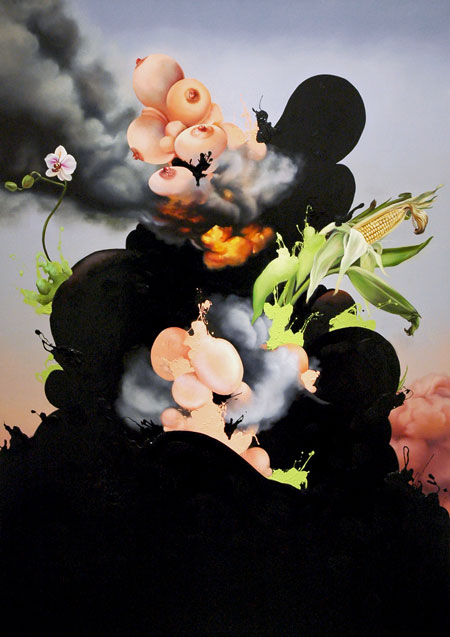 Sarah Chuldenko Love and Rockets 2008 oil an enamel 7' x 5'
It was at Fake Estate, so it was physically one of the smallest shows in New York this spring, but the impact of the work Sarah Chuldenko showed in this broom-closet of a space was not minor in any sense. The show was called "Casualties of Beauty", and although it closed on Saturday, I'm sure we'll soon be seeing this artist again.
Some of her squishy images may verge on the off-putting, but I think it's a good sign that the latest painting seems to be the most successful of all of them. Without losing her quirky organic vocabulary, Chuldenko has managed to open a very different conversation with "Love and Rockets". The work is no less mysterious for the clues she may be providing us inside the disturbing beauty of the chaos she has created; the artist has only added more complexity to the language of the earlier pieces.
If not quite put off, we remain a little disturbed.