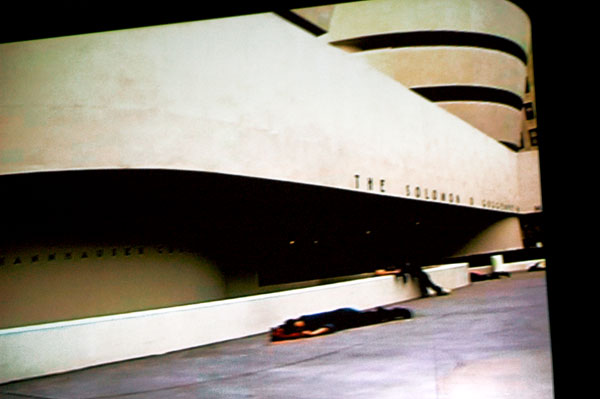 dead artists and such outside the Guggenheim, in the BHQF film, "Isle of the Dead"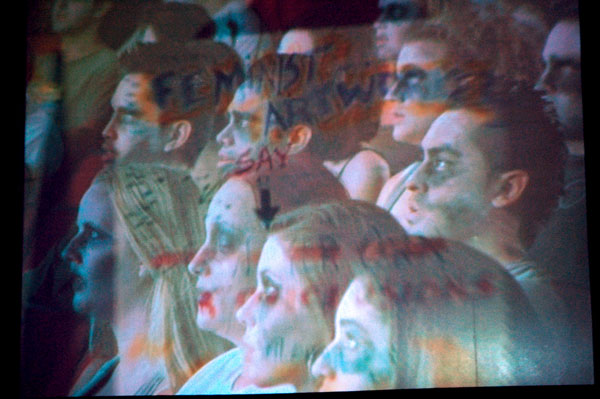 zombie artists and such recalling the summer of '69, in the BHQF film, "Isle of the Dead"
The art world may be the middle of a continually-darkening 2009, but I'm still trying to stay well away from any ghoulish gallery deathwatches. Actually, I never understood how galleries operated/survived even in boom times, but then I never really had to; I don't have a gallery, I am not advancing and cannot advance any money to anyone, I'm not selling art and I've not been able to afford to buy art for some time. Normally on this site (and elsewhere) I simply refrain from speculation, scuttlebutt, even factual news of any kind about behind-the-scenes gallery operations, except as it might impact close friends, my own blogging, the ArtCat calendar, or our ability to attract advertisers on Culture Pundits. Unless I'm standing on my virtual soapbox sharing an earnest political anger, most of the time I'm writing about art, and sharing some pictures. I can't promise however that an occasional, particularly-colorful story might not sometimes tempt me to drop my customary constraint.
By the way, like my general habit of truthfulness, this reluctance to engage in certain conversations doesn't seem to be have anything to do with personal virtue, but more likely stems from a consciousness that I lack the talents ordinarily required of a successful gossip, cynic or schemer; that is to say, absorption in the subject, guile, the ability to keep a story straight, and the sheer love of the game.
Anyway, I don't pretend to be on top of the news about the regular disappearance of art galleries over the past months, sometimes unaccompanied by a notice of any kind, but after hearing today about another gallery closing, not one of the biggest spaces, but one which was a favorite of both Barry and myself, I finally confess to being deeply saddened.
While I was putting this entry together I learned of the death of the artist Dash Snow, further deepening my gloom. Barry and I were talking to William Powhida last night about the degree of interest regularly shown by much of the art world and the general public, and all forms and levels of the media, in gallery and artist prattle (as opposed to actual art news).
Today I found this sad, sweet post on Powhida's own blog.
The fact that we were discussing art gossip and disappearing galleries last night happens to have been only a coincidence to today's news but it suggested some of the thoughts for this post of my own, one which was originally intended to be only a few words attached to an image or two from "Isle of the Dead", the wonderful film by the awesome collaborative, Bruce High Quality Foundation [BHQF]. It's playing in an old movie theater on Governors Island all summer. It's one of the very best of the many installations spread throughout the grounds.
Thinking about the film, which I saw two weeks back, has made me feel much better, and it should work for you too. Just follow the art zombies downtown to Governors Island. Check out the trailer.