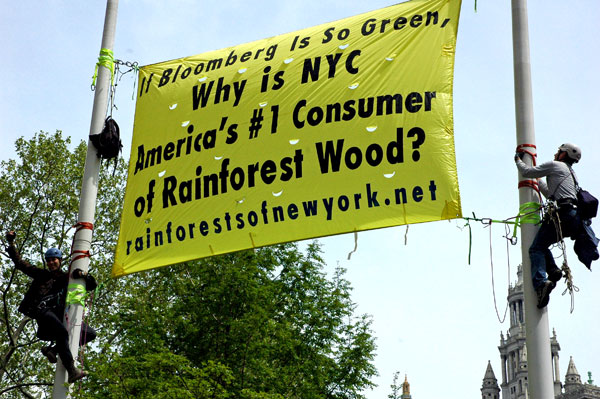 UPDATE: [2 PM, APRIL 22, 2010] Both Tims were released a short while ago, after an arraignment in which each was charged with two misdemeanors: "Obstruction of Government Administration" and (a Parks violation) "Unlawful Posting of Sign"; each was also charged with one violation: "Disorderly Conduct"
ADDENDUM: [April 22, 2010] Tim Keating discusses the issues in this excellent Rainforest Relief video, recorded on a New York subway platform in April, 2008
Added six hours after this post was published: It's just like the late 80s and 90s: We're still having to learn to do stunts and run through hoops just to get the attention of elected officials, bureaucrats, journalists and the people who take and handle our money, in the hope of persuading them, or their handlers, to do what they should have been doing all along. It seems to be the new American way.
Two intrepid activists from the group, "Rainforests of New York" (yeah, New York rain forests: we're actually the country's #1 ongoing consumer of the irreplaceable wood from the planet's vanishing tropical rain forests) at midday today shimmied up two of the 40-foot flagpoles planted at the foot of City Hall Park. There the team, Tim Doody and Tim Keating, masterfully strung a handsome 150-square-foot banner broadcasting, to Mayor Bloomberg, the people of New York, tourists on foot and sitting in open-top buses, and by now the whole world, the gross hypocrisy of a city which talks green while refusing to acknowledge its dependence on "exotic wood" products purchased (with public money) from those whom our building appetites reward for continuing to destroy rain forests and altering the entire world climate.
The action was organized by Rainforest Relief and the New York Climate Action Group [NYCAG]
The banner was unfurled some time after noon, and it was still in place at 1:45 pm, well after the triumphant climbers had lowered themselves to the ground. They were arrested by gloved members of the "Police Emergency Service" while being hailed by the supportive lunchtime crowd, which then saw them driven off to the First Precinct.