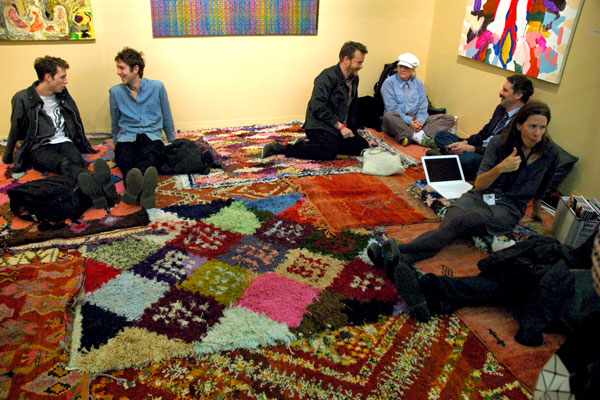 I tried resisting the lure, and I almost didn't go to The Armory Show this year. So I think I was feeling a little grumpy in the first hour or so at the preview last night (it didn't help that Barry had once again refused to make the trek with me).
My personal best experiences with the West Side piers will almost certainly remain history, as they involved embarking and debarking from great ocean liners - or just "cruising," while today the most they can offer are trade shows.
I hate the getting to and the coming from when it comes to the the Armory Shows on these piers, and even being there is a strain. It's a desert over there: Nowhere else in New York do I feel I have to bring supplies with along me or I might starve or die of thirst. It's worse than the Chelsea gallery "neighborhood," and that's saying something. Because of the lines and the logistics, those piers are always barren of refreshments, even when the organizers claim to have made food and drink available. I couldn't even find a water fountain last night. Four hours in I was saved, just in time, by Pommery, thanks to a friendly dealer.
My enthusiasm for some of the art which hundreds of handlers had arrayed on the far West Side above the Hudson gradually picked up after the first hour or so. I ended up seeing some good work, and I had a great time, but the big reward, for me, came when I arrived at the CANADA stall. I always look forward to visiting the gallery - and visiting with the art keepers themselves - but last night, in the midst of so much intensive marketing up and down those long aisles, their space felt more than ever like an oasis of sweetness and light.
Of course Katherine Bernhardt's gorgeous thick Moroccan carpets helped, but they probably wouldn't actually have been necessary to establish the ambience that was drawing visitors so easily. I think I was there for almost an hour.
The image at the top includes, from the left, lower portions of paintings by Michael Williams, Xylor Jane, and Katherine Bernhardt. The work hanging on those warm umber walls can be expected to change throughout the show.