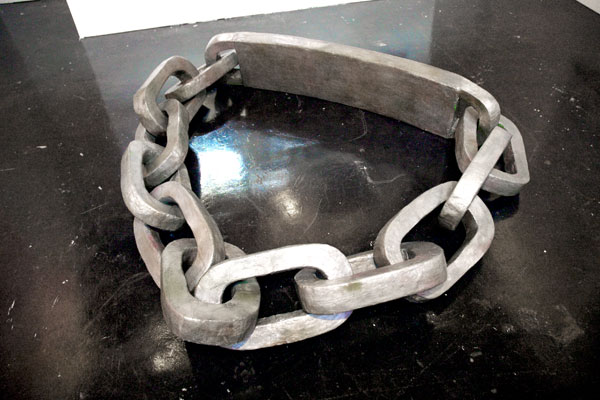 Ester Partegàs Yes Collection 2007 resin, spray acrylic and enamel paint 12.25" x 82.75" x 59" [installation view]
Barcelona's Nogueras Blanchard gallery showed work by Ester Partegàs at NADA, including this over-size identification bracelet. I thought the gallery's images of a room installation, "Invaders", being put together at that moment in Madrid's Reina Sofia were very impressive, but light reflections made them impossible to record.
The museum page includes a statement about Partegàs's work in general which is even more useful than its description of the current installation itself. Wish I could see it.


one of the huge sets of layered paintings on methacrylate, which surround a central sculpture in the Reina Sofia's Producciones
[second image from the Spanish Ministry of Culture]