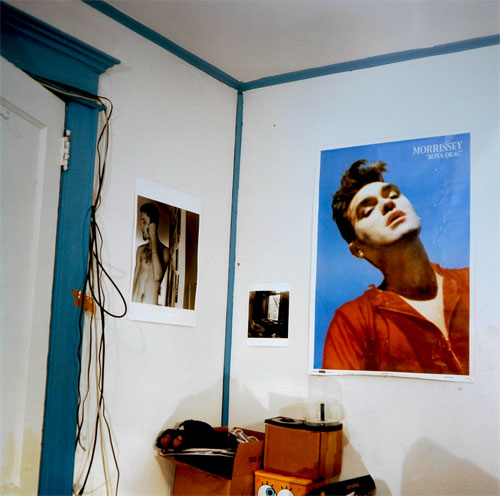 Gregg Evans Luis 10/06 2007 digital C-print 16" x 16"
Barry and I had a terrific time at the NURTUREart benefit Monday night, and we came home with the piece by Gregg Evans shown above.
Executive Director Karen Marston tells me that the staff is pleased and relieved that there was no major drop in either sales or enthusiasm this year, in spite of our current serious economic scare! She added that even if it hadn't been a financial success she herself would have thought all the work worthwhile for its incalculable value in energizing the volunteers, the artists (including the school kids in the Outreach Program), patrons both continuing and newly-arrived, and friends who can't live without art.
I can only say myself that the art displayed and available was very impressive, and that the room was filled with more happy and excited people - of all kinds - than I have ever seen at an arts benefit, and I've been to a lot.
I think the organizers are trying to arrange a way to make the works which did not walk out of the room that night visible on line and available for purchase. I know that if we had some fat in our own wallets right now the two of us would have reduced their number quite a bit further on our own. The exhibition had been selected from offerings by NURTUREart artists through the input of a curating team which included Koan Jeff-Baysa, Lowell Pettit, Amy Rosenblum Martin, and Lily Wei. Their excellent judgment was reflected in the quality of what we saw that night. If a system for the sale of the remaining works is set up, I will be reporting it here.
The picture at the top of this post?
We had purchased a ticket which entitled us to one artwork, but, since we were also on the benefit committee and had to get back to work, we had only a few seconds to make a pick from among 150 worthy pieces hanging on the walls of the James Cohan Gallery.
Quickly comparing notes when we could both take a break, Barry and I found we had each separately and immediately zoomed in on "Luis" without knowing anything about the artist or the series of work of which it is a part. It was enough that this beautiful big print suggested a mind and an aesthetic which seemed to be worth exploring further. It turns out that the image is part of body of work in which Evans investigates the home environments of a number of his friends.
I've searched on line for more information and I came across these two statements, on separate pages of an Arts in Bushwick preview/profile, about his work from the artist himself:
I have a friend who often talks about photographing the people he is close with as a way of maintaining relationships. I often wonder if I agree with his logic, if the power between photographer and subject creates connection or destroys it. Can one maintain a friendship with someone they are constantly observing? If, for example, I photograph the things which gather on bookshelves in a friend's apartment is this photograph a testament to our friendship and existence, or is it really a marker of the beginning of the end? What happens to a relationship, or for that matter, a place, when it is suddenly acknowledged as important?

My work stems from day to day life; the seemingly banal objects and spaces we overlook in a given day or week, i.e. the books on one's bookshelves or the newspapers we leave behind on the subway. I am interested in the remnants of consumer culture, archaeology, and what our products say about us.
There's more here, on the White Columns Registry site, and there are also two books documenting his work, one carrying the weight of the painfully-disconsolate title, "I Could Walk Away Now And You Wouldn't Care", the other (a zine?) tagged with the more dispassionate, "The State of Upstate".